Geeky Gifts Not From Grandma
Features & Highlights
Why you should buy this product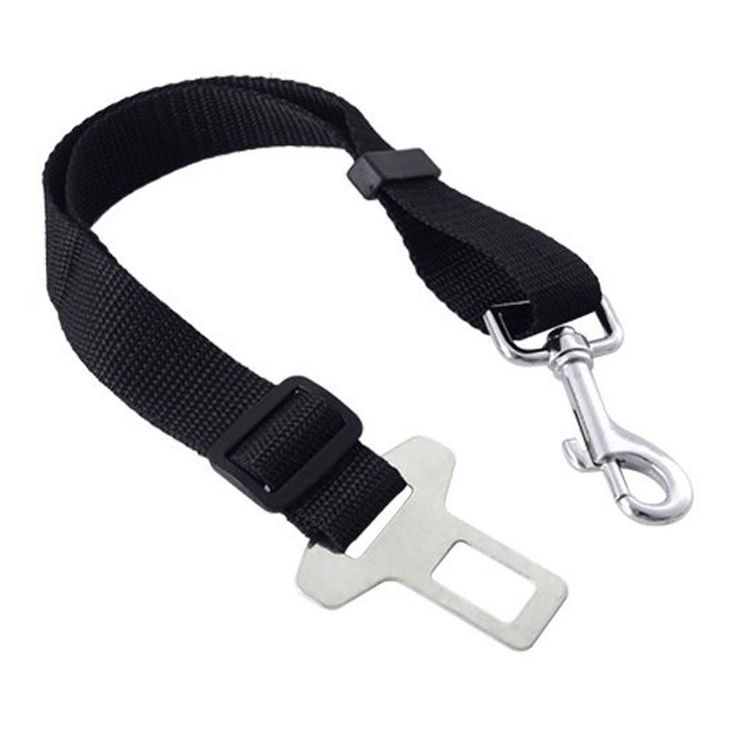 Universal Adjustable Pet Car Seat Belt [Black] Keep Your Dog Safely Restrained While Driving!
Do you want to drive out with your pet without worry about the security of your pet in the car or his naughty Now here come Black Universal Adjustable Pet Car Seat Belt will meet you demand. This Universal Adjustable Pet Car Seat Belt is made of nylon webbing straps, it is easy to operate and take off, precisely insure the safety of your dog & cat when you are driving. Keep your dog & cat safely restrained and secure in vehicle while driving Adjustable strap, allows pet to sit, lie down or stand comfortably Durable buckles and adjustable strap Made of high quality nylon fabric Size: 7.87" x 5.9" x 0.39" Please Note: This does not include actual collar or harness, just the extender to attach to the collar or harness!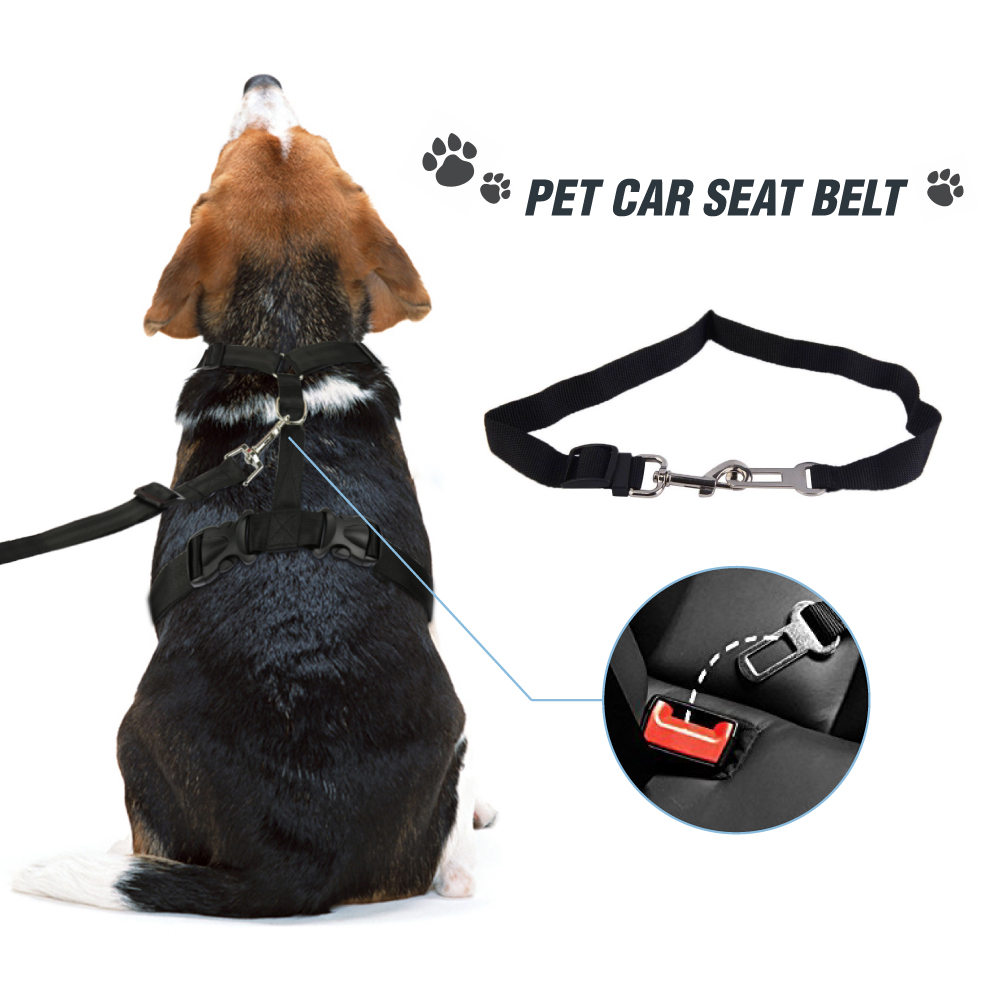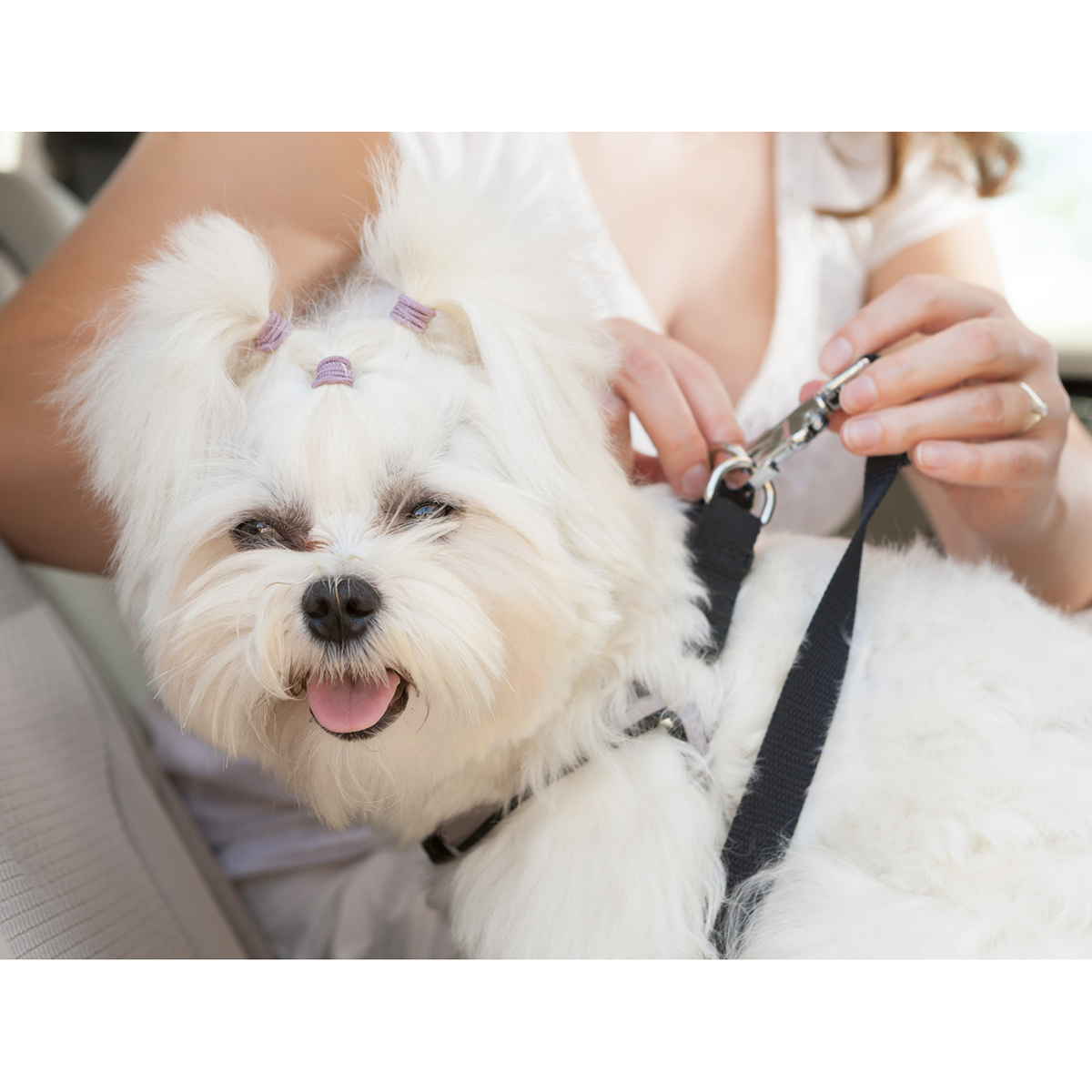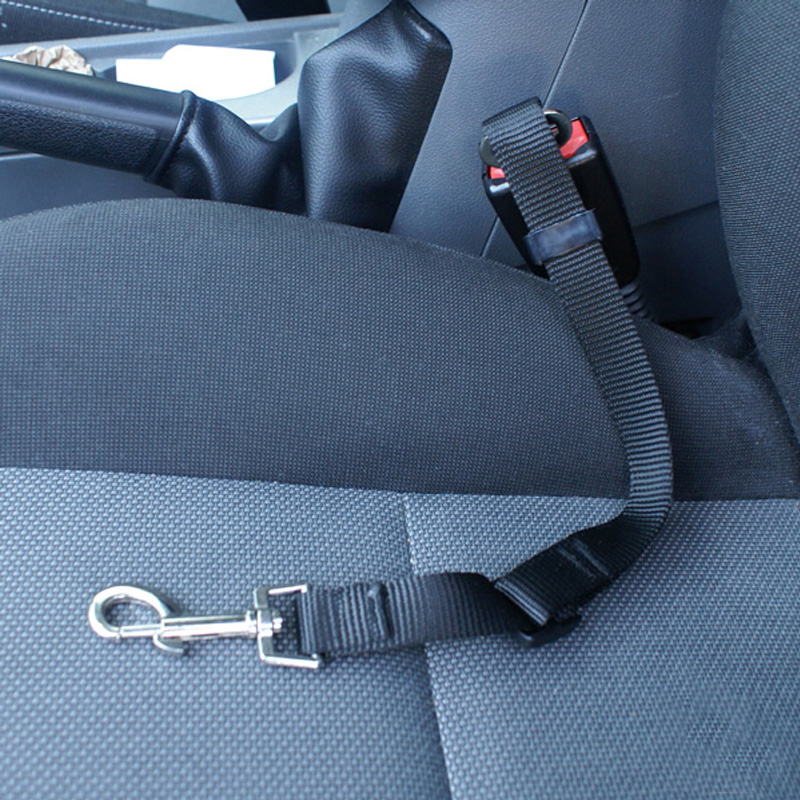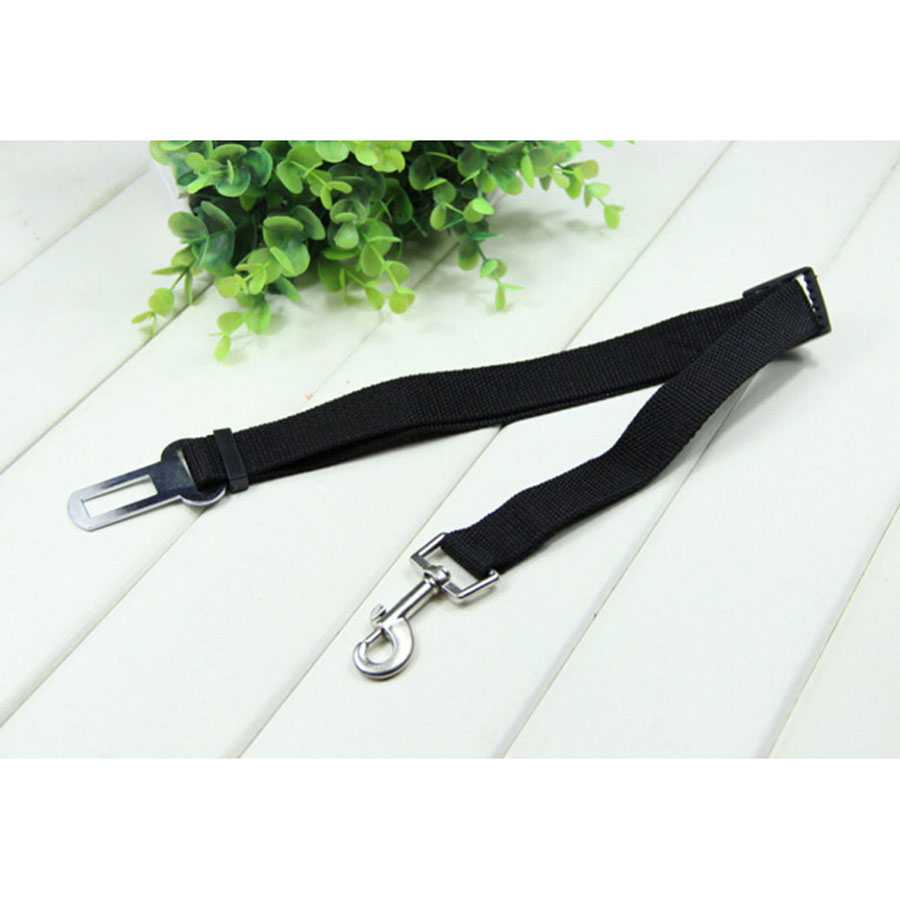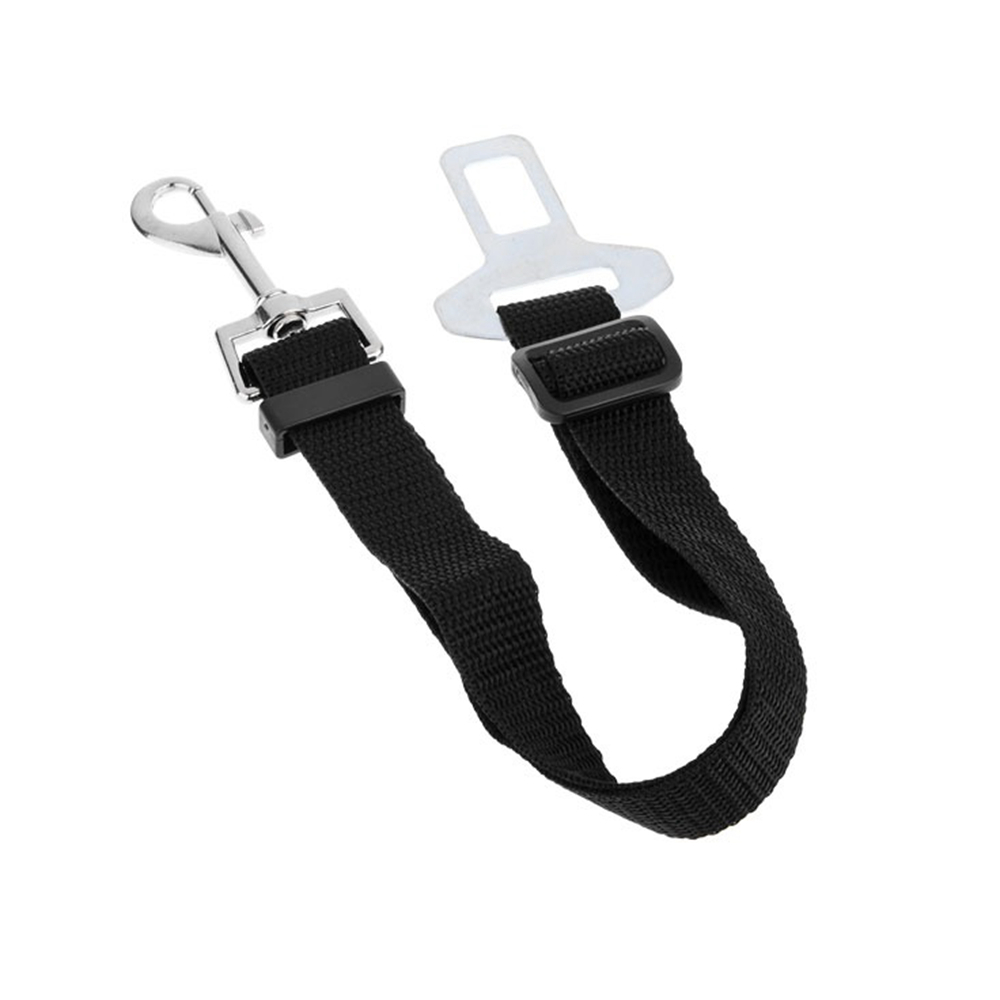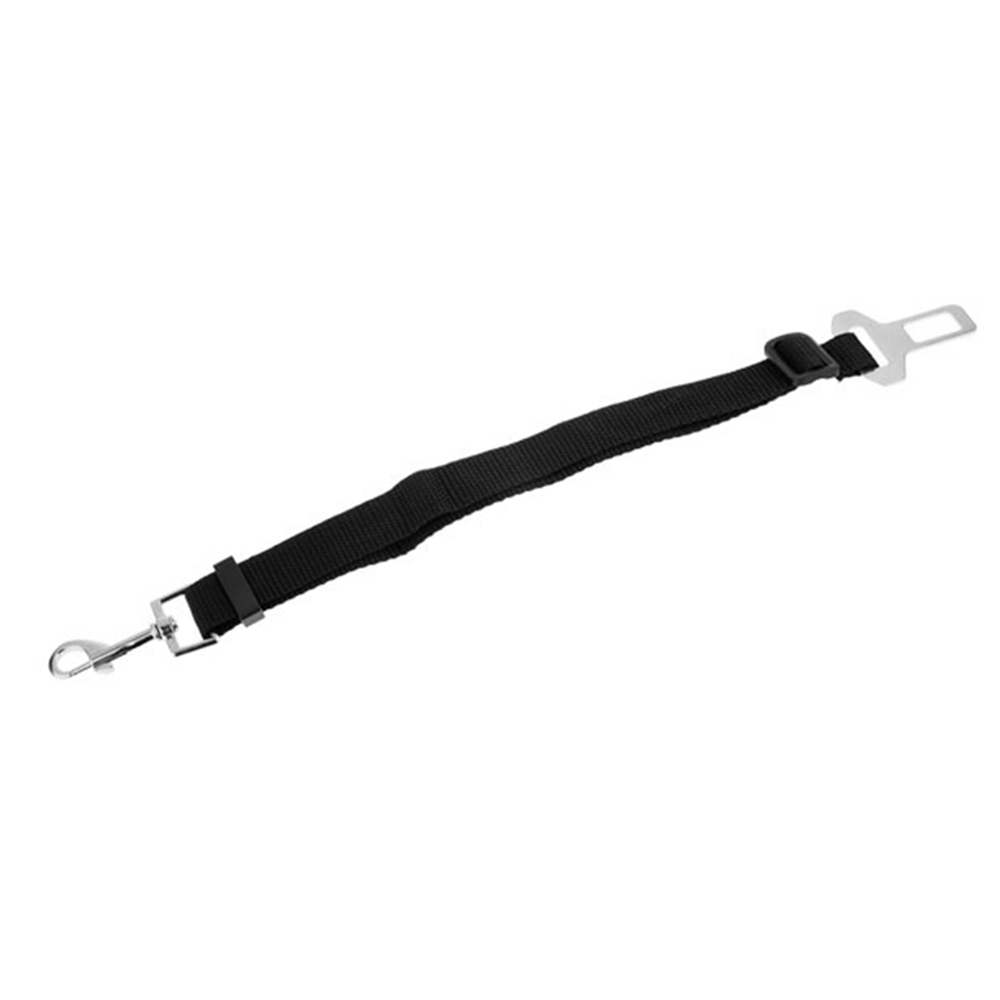 You Might Also Be Interested
Customers Who Viewed This Item Also View
Customer Reviews
John Hornton
Jul 6, 2018 2:58:49 AM
works well for the price
Works well for the price. Keeps my dog from trying to climb all over the car while I'm driving. Easy to use, pretty sturdy material, and reasonable price.
Francis Cornish
Jun 8, 2018 7:54:33 AM
worth buying
Worth buying! It keeps my dog and pet safety restrained and secured while I'm driving. This is adjustable, durable, and strong.

Gary Black
May 16, 2018 12:42:32 AM
buckle up
Our dog jumped out of the car window so we decided to try out this seat belt. Now, he can safely look out the window. It works great with the buckles inside the car.
Frank Jacob
Apr 16, 2018 12:24:46 AM
great for dogs riding in the car
Great for dogs riding in the car! Clipping into our dog's vest will keep her safer, comfortable and super easy to use. Perfect length!
Adrian Peter
Mar 27, 2018 1:27:07 AM
simple and effective
Simple but effective way to secure my dog in the car. I keep one in the front and one in the back seat. She can move around comfortably and provide her with some protection in an accident.
William Hill
Mar 14, 2018 10:09:20 PM
great buy
Great buy! I love that this dog seat belt can be used as a safety leash during travels. My husband and I travel a lot and this is so helpful and functional for us.
Andy Jackson
Feb 22, 2018 6:23:35 PM
very helpful
Snaps easily into the seat belt slot. Clips onto collar or harness. And no more jumping into the front seat distracting me while I am driving. Very helpful.
Kate Brown
Feb 7, 2018 9:49:07 PM
Keep my dogs safely restrained
My dogs love car rides. This buckles are made of high quality nylon, durable and adjustable strap. Keep my dogs safely restrained while driving. No worries!
Sean Howard
Apr 3, 2017 8:00:36 PM
great belt
Great belt, it holds my dog in place. I bought it after he fell and injured his leg during a recent road trip. Now I don't have to worry. Works well for my pet.
Jake Howard
Feb 8, 2017 7:14:31 PM
it gives peace of mind
No worries about my dog, stays in the backseat and pretty calm. This gave me peace of mind that he was tethered in just like I was, just in case of a collision. Thank you for the adjustable belt.
Kimberly Langdon
Dec 19, 2016 10:33:18 PM
no worries at the back set... buckle up
Awesome pet car seat. Keeps my puppy comfortable and secure in the back seat. I used it all the time! Really sturdy and nicely made. No worries about sudden accident. Buckle up! I love my dog, and price is great!
John Peter
Dec 5, 2016 9:51:50 PM
great car seat
Great car seat belt. This product is well made and easy to install and use. I have no worry about my puppy at the back of my car. There is a perfect room for her to lie down in it. Would highly recommend
Boris Brown
Nov 21, 2016 7:36:24 PM
gives me peace of mind
Very easy to use and gives me a peace of mind that my dog is buckled up. Highly recommend
Eric Hamsterdan
Nov 17, 2016 5:11:36 PM
securely and my pet is protected
It does exactly what is stated it would do, it allows my puppies to be secured and protected by harness in my car a restraint system. Easy to use simply plug it into vehicles buckle clasp. It has a proper length where in my puppies can move around and lay properly. Highly recommend
Katherine Clark
Nov 15, 2016 6:41:00 PM
Keep my pet safe
Best thing ever! Our little Yorkie loves to travel, adapted quickly to the straps, great product! Easy to use and works great. Buckle up and they are safe and secure, i feel so much better now knowing my pet are safe in my car.
Christian Lee
Nov 9, 2016 5:05:14 PM
worry free!
Thumps up! The best thing I ever bought for my puppy. It works well! Great product for me to help keep my pup safe while travelling. Worry free!
Anthony Edmonds
Nov 8, 2016 5:21:55 PM
Buckle up and drive smarter!
I am so glad that I bought this seat beat for my dog. It allows her some freedom of movement, without allowing her to jump into the front seat or elsewhere in the car. It gives an extra secure and protection for me and my dog. Now, I have no worries, thank you.
Andrea Coleman
Nov 7, 2016 7:23:28 PM
great product for a good price
What a great little invention! Teamed up with harness, this keep my puppy safe and secure in the backseat. It was sturdy, easy to install and absolutely perfect!
Abigail Bell
Nov 6, 2016 3:18:48 PM
great value
Excellent for keeping my puppies safe in the back seat. Comfortable and necessary! Very happy with this product, great value!
Marcus
Nov 3, 2016 9:51:08 PM
safe and convenience
Extremely convenient and safe car restraint. It keeps my dogs secure in case of an accident or sudden stop. It is easy to install, durable, and excellent material. I would recommend these to anyone with pets.
Dorothy Bell
Nov 2, 2016 7:48:32 PM
works well
Easy to use, I love this, I feel so much safer driving around with my dog belted in. I put him in his harness and then clip him in and I feel like he's secure. The belt itself seems very sturdy. Highly recommend
Neil Davidson
Nov 1, 2016 7:22:50 PM
worries no more
Quality well made product. It is awesome! This seat belt worked perfectly for my dog in the front seat. i love the fact that my dog is secured just in case if there is an accident. 100% satisfied on my purchased.
Thomas Oliver
Oct 30, 2016 7:02:07 PM
Buckle up!
High quality and excellent well made adjustable dog restraints. Heavy duty, helps maintain positive control in my pet when i needed to control the most specially in my travel. Buckle up! Me and my pet, makes me feel safe and worry free. I would recommend this well product to anyone.
Edward Miller
Oct 25, 2016 8:08:17 PM
love it!
Very functional and easy to use. The buckle is sturdy and adjustable to keep my pet in one seat, makes me feel better. It is a good idea and chance to secure my family and puppies in case of an accident. Love it!
Leonard Dyer
Oct 23, 2016 9:41:25 PM
very useful
Great ideal to keep our dogs from jumping into the front seat when we are driving. Sturdy material strong enough to clip for our dogs. Highly recommended

Thomas
Oct 18, 2016 9:57:13 PM
Great Quality!
Knowing that my pet is buckled in, like I am makes me feel better while driving. Have no worries! Thank you, happy in my purchased very useful.
Jasmine Butler
Oct 18, 2016 12:21:55 AM
No worries
I am very satisfied customer and happy for this product. Keeps my dogs safe while riding in the car. Long enough that they can look out the window. thank you

Faith Howard
Oct 11, 2016 7:59:27 PM
Excellent
High quality and excellent craftsmanship of these fully adjustable dog restraints. I love the fact that my dog is secured in case if there is an accident. Thank you very much
Kevin Glover
Oct 5, 2016 7:04:49 PM
works great
Very Sturdy! Great product to keep my dog safe while traveling in the car.
Nathan King
Oct 4, 2016 7:17:54 PM
No worry
Keep my puppy safe and secure, using this adjustable seat belt. Thank you very much, now i can drive without worries.
Marlene
Sep 29, 2016 3:00:14 AM
no worry
I can drive even in along drive without worry, using this pet seat belt. Buckle up, its protect me and my pet. thanks
Vanessa Oliver
Sep 26, 2016 9:56:35 PM
feeling safe
I feel safe having this wonderful car seat belt even in back seat, during unexpected licks of my puppy while driving. I am glad that I bought this.
Dominic Lambert
Sep 15, 2016 7:28:39 PM
piece of mind
My first impression when seeing these is the deal is so simple. I couldn't believe think of it before myself. It's look nice, perfectly fine, full length ability. This product works well, it gives me piece of mind that my dog can't go any where in the car, or would flying in an accident.
John Carlo
Sep 13, 2016 8:27:02 PM
No worry
No worry about the security of my dogs, no regret for purchased of this product. Highly recommended.

Angela Campbell
Sep 12, 2016 7:32:51 PM
No worries
I have a German Shepherd dog and sometime i just worried in turn around or sit lay down while driving. But in this buckles lock into the seatbelt and attached to my dog harnesses, they are unable to roam the car and are safe in case of an accident. No worries

Rose Ogden
Sep 2, 2016 2:04:21 AM
Happy
Exactly what i looking for! Very happy with the quality, and no worries with my puppies.
Gabrielle Carr
Sep 1, 2016 1:01:17 AM
Highly recommended
So far so good, I would absolutely recommend this product to anyone. It is super easy to use and and one thing I love the most is that I can take it with me when I am travelling with my dog. Try it now and you won't be regret.

Sue MacLeod
Aug 18, 2016 11:33:05 PM
love this product
Love this product! Great quality for great price, it easily clips in and out of my cars seat belt buckle. I love that i can roll down the window without worrying about my dog jumping out. It also a great way to keep him in the backseat. The leash keeps my dog safe as he rides along with me while braking and making turning. I love the fact it keeps him in his space causing basically no distraction at all as I drive. The belt is sturdy and made of high quality nylon fabric is strong it has a zinc alloy swivel snap and metal buckle.


Robertson Ross
Aug 18, 2016 12:30:46 AM
perfect for safely of your dog
Great product! I have tried other pet harnesses and the adjustable length was great. He could still move around enough to make himself comfortable in the back seat, while still being locked in. The clasp that attaches to his harness and the fabric are sturdy. Couple this with a sturdy, comfortable harness, and your dog will be safe and comfortable in any car.


Christian Fisher
Aug 17, 2016 12:36:38 AM
will recommend
These are higher quality straps than any others that I've seen. The buckle is sturdy and the hardware is all metal, no cheap breakable plastic. The straps themselves are made of good, thick, nylon. These belts adjust to provide plenty of length options to fit your dog's riding habits, I am very happy with this purchase and highly recommend them.

Matt Powell
Aug 7, 2016 9:30:31 PM
keeping your pet safe
The straps themselves are made of good, thick, nylon. These buckles adjust to keep them in one seat, or you can leave it longer fit a little roaming room. My service dog gets excited when she gets in the vehicle because she knows she's going to work and gets to see her favorite people, so she talks quite a bit.And the strap did a great job of keeping both dogs securely in place! I would highly recommend this to any and all pet owners who regularly take their pets on car rides!
Virginia Blake
Aug 1, 2016 2:58:15 AM
Much better than I'd expected!
The latch fits perfectly in the receptacle in the center of the rear seat. My dog can now put his paws up on the back side of the console and see where we're going, but he can't jump up into my lap.
Diego
Jul 18, 2016 8:53:29 PM
Great way to make car rides safer!
This little thing does a big job! Our pets are so important to us and we want them to be as safe as possible, and this is a cheap and easy way to make sure car rides are safer! Since it came with for a strong pitbull about 60 pounds, The strap did a great job of keeping the dog securely in place! I would highly recommend this to any and all pet owners who regularly take their pets on car rides!
Lucas Ramirez
Jul 12, 2016 4:40:46 AM
great item
I purchased due to not liking the ones that cam with a booster seat and then moved my male dog who cries and whines the entire trip to the seat.

Pro: stays right at the length you make it, secure, sturdy, and provides safety to my little one in the car.

Cons: none at this moment

This is the best alternative if you do not have the funds to purchase booster seats for your car.
Snopixy
May 23, 2016 4:25:08 PM
Pet seat belt
I don't worry about my dogs having critical injury if I'm involved in an accident. My Spaniel loves to look out of the window, but I always had to keep them rolled up. Now I can roll them down and she will remain safe.It's better and safer to clip the seat belt to a harness than a collar.
Susan
Jan 24, 2016 10:13:58 AM
Excellent!
I drive a lot with my dog, and I have worried about what would happen to him if I had an accident -- what if he ran from my car and I couldn't find him? I have an expensive harness gizmo that holds him in his seat but gives him no room to move around. I bought the pet car seat belt thinking, "It doesn't cost much, so why not?" It has been the perfect solution! Weighs practically nothing and gives my dog room to turn around, stand up and look out the window, sit up, and lie down. Keeps him comfortable yet secure. It's adjustable, so it can be lengthened or shortened. I don't know how well it would work with a larger dog (say, a German Shepherd), but for my little guy (weighs 10 lbs.), it's perfect.
Write Your Own Review