Features & Highlights
Why you should buy this product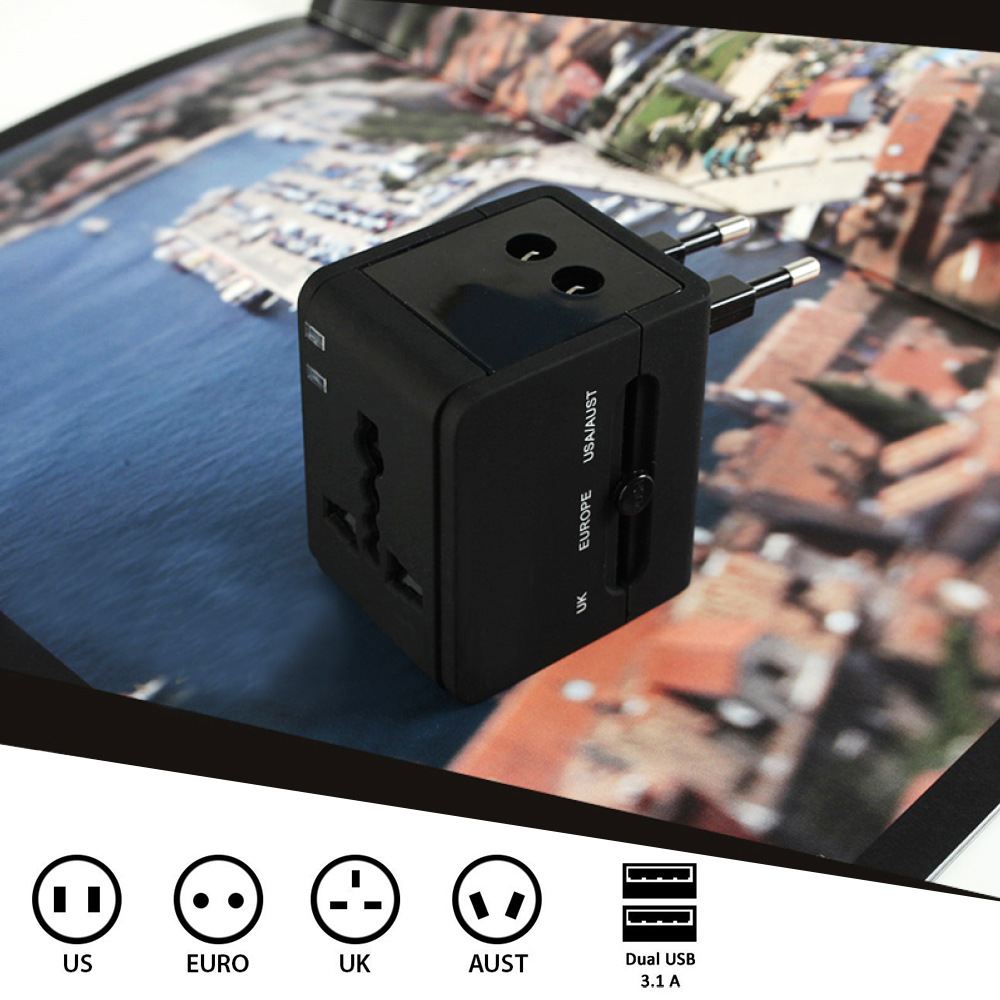 Black All In One International Travel Power Converter Plug Adapter Charger With 2 USB Ports - Charge around the World!
This international charger is designed to keep up with the demanding lifestyles of traveling professionals. It includes prongs that fit different electrical outlets around the world. With dual USB ports, this sets this charger apart from the rest. For world travelers, this is the perfect charging kit to travel the world with. For global travelers, this is the perfect charging kit for worldwide travel.
You Might Also Be Interested
Customers Who Viewed This Item Also View
Customer Reviews
Tomas Douglas
Jun 25, 2019 7:43:53 PM
convenient to use
This adapter has a very cool looking. It works well so far and it is better than the one I bought. Good for traveling and convenient to use. Perfect for me as I fly to different countries for business regularly.

Anthony Jack
Jan 2, 2019 5:14:02 PM
great travel companiion
I used this while traveling in Asia last month and had an excellent time of it. It was very easy to use and the ability to plug in USB cable. My great travel companion.

Gary Douglas
Nov 27, 2018 11:06:07 PM
working very well
Just used this plug for a three week trip to Europe and it was a lifesaver! Its lightweight and compact. I can easily carry in my bag, plus it has 2 USB ports! Working very well and I'm happy:)

Nick Slater
Oct 10, 2018 9:32:02 PM
worked like a charm
Probably the best travel item I ever bought. I backpacked through London, Australia, Iceland, and France with this one charger and it worked like a charm for everything I needed. Extremely durable.
Jhonny Douglas
Sep 25, 2018 5:21:06 PM
two usb port was great
Bought for a trip to UK from the US and it works great! Having the two USB ports on the side was a great benefit. Thanks, Geeks!
Anthony Hudson
Jul 25, 2018 9:53:12 PM
work as promised
Work as promised! This is a perfect travel charger, it is compact, support majority of the countries, and I can charge two devices at the same time. This is a must have gadget for any travelers.
Robert Lee
Apr 18, 2018 7:43:58 PM
very useful
Very useful travel adapter with a lot of options. It works great! Especially for traveling! I can change my phone even around the world! Awesome!
Jasmine Miller
Nov 13, 2016 6:44:15 PM
it works very well!
I love this little genius Adapter Charger! I am a flight attendant and I travel abroad every week and this little charger can fulfill multiple need as a necessity. It has a lightening fast at charging and serves it t purpose very well!
Nikki Mouse
Jun 9, 2015 3:59:32 PM
Worked in UK
I bought this adapter to travel to UK, worked pretty well.
Write Your Own Review