Accessories for Your Vehicle
Features & Highlights
Why you should buy this product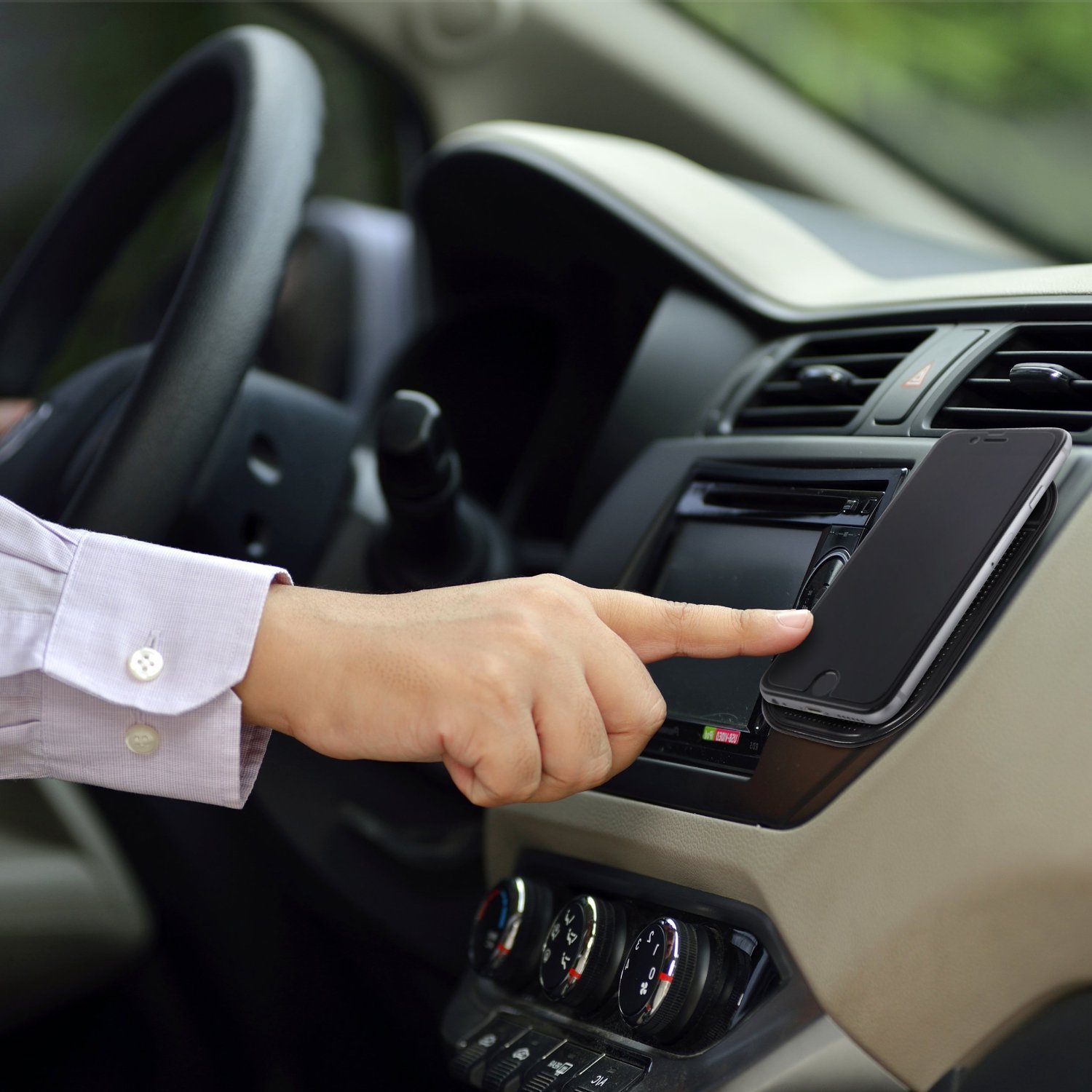 Car Accessories [Black] Super Adhesive Car Non Slip Mat
This unique sticky pad mad is designed to prevent slipping and sliding, and is the perfect accessory for your mobile device or other accessories. Simply place the pad on an unpainted dashboard, and keep your coins, keys, sunglasses, MP3 player, cell phone, and more safe while you drive. Also works on other surfaces such as glass. It it gets dirty, simply clean with soap and water to renew stickiness, and then reuse! For your safety and passengers, do not place pad on the airbag.


Works on multiple surfaces: Use in car interiors like dashboards to glass, from walls to doors. Ideal for Cars, Vans, RVs, Caravans, Boats, Yachts, Trains and Airplanes. Takes up minimal room, measures 5.5 x 3.4 inches.
Not permanent: No glue, no tape or velcro, no brackets, no suction cups that fall off, just place your phone, radar detector, change, sunglasses, or other small accessories on the mat and it stays safe!
Reusable: It it gets dirty, simply clean with soap and water to renew stickiness, and then reuse!
Durable: Made of silicone and using a industrial grade non-slip rubber. Use in high & low temperatures and humidity resistant. Leaves no mark, is reusable and can be washed when it gets dirty.
Please note: For your safety and passengers, do not place pad on the airbag. Avoid use on surfaces that have a lacquered finish (i.e. wood and some leather). Also avoid use on cars with hard or painted plastic dashes.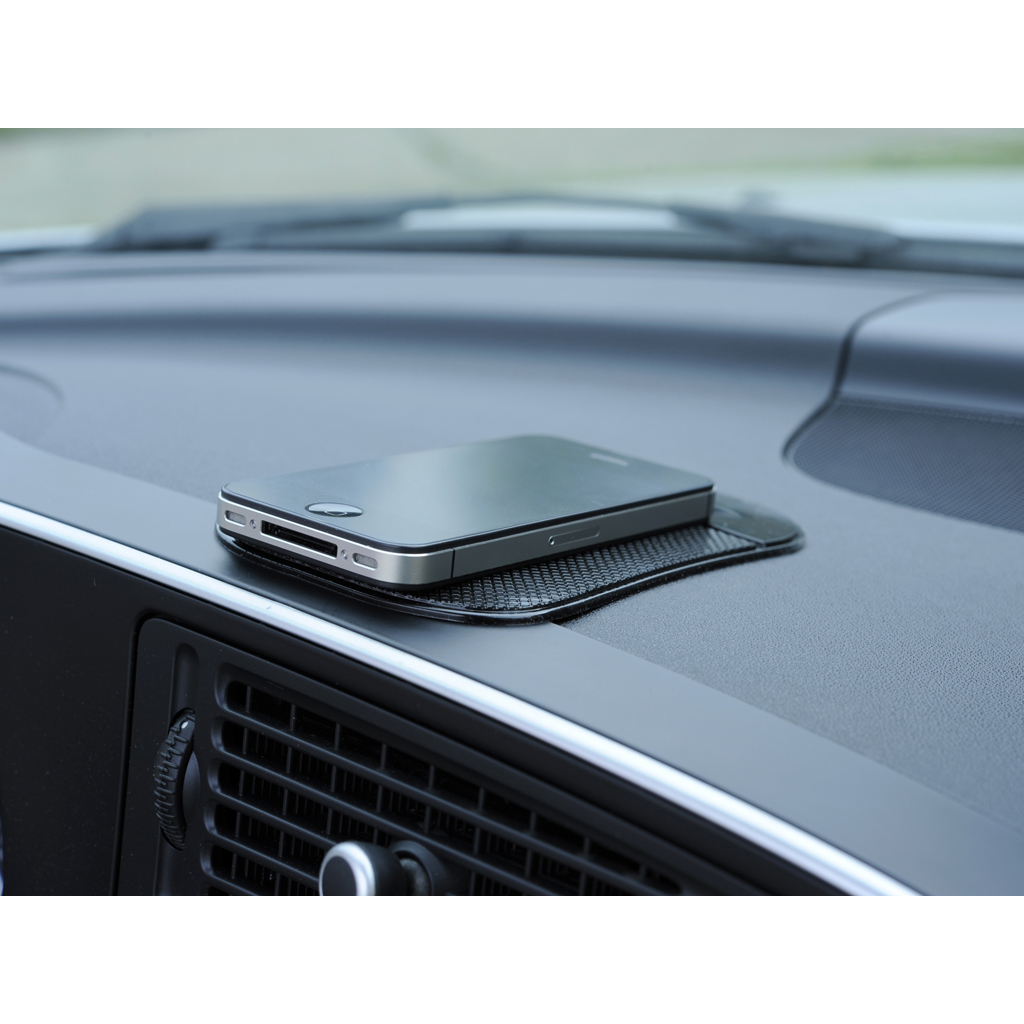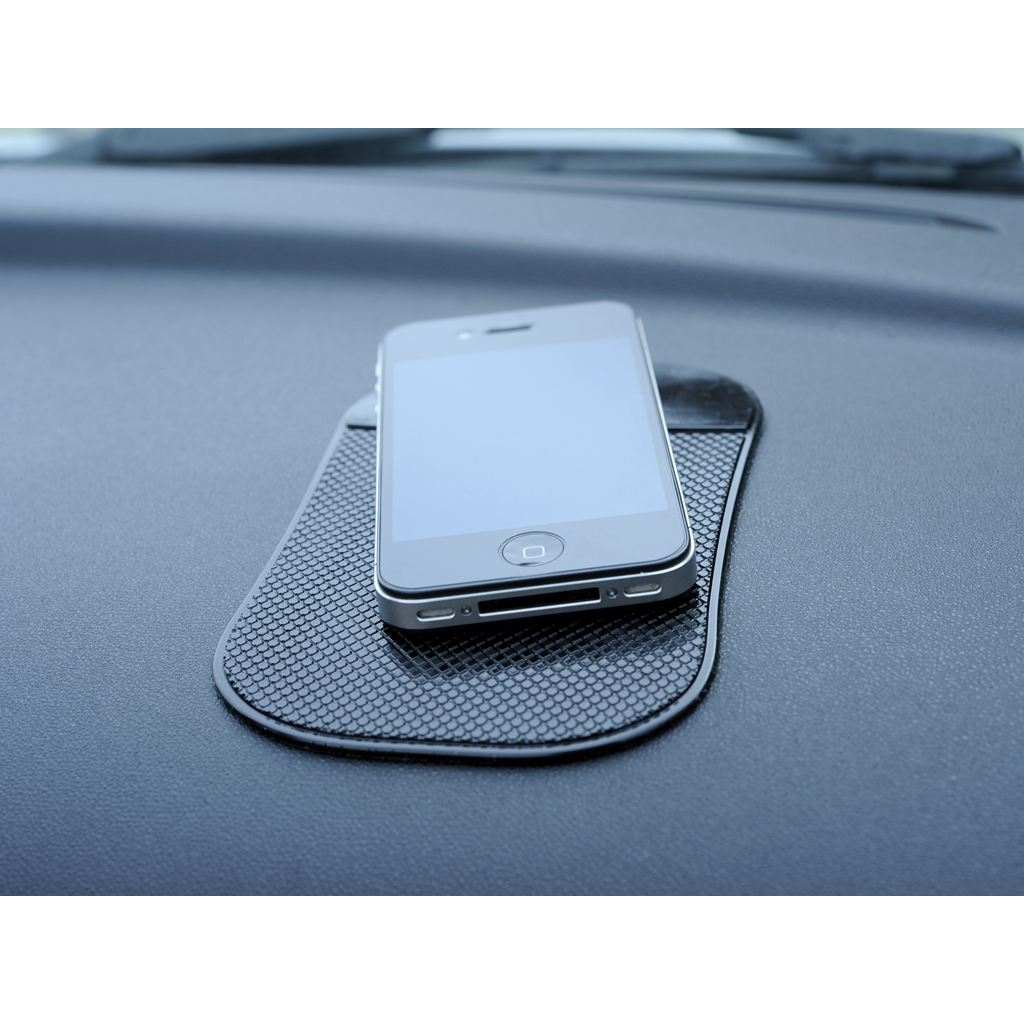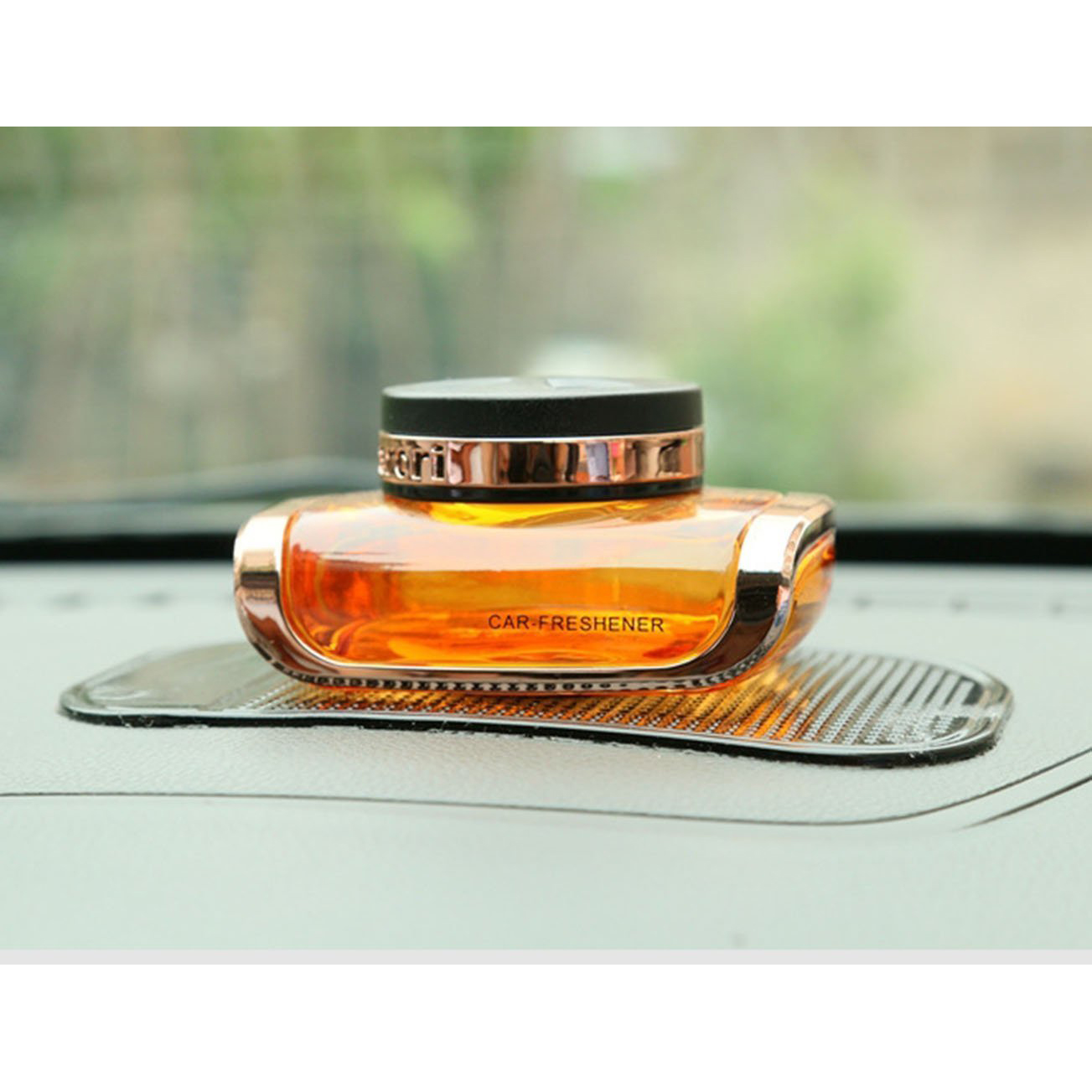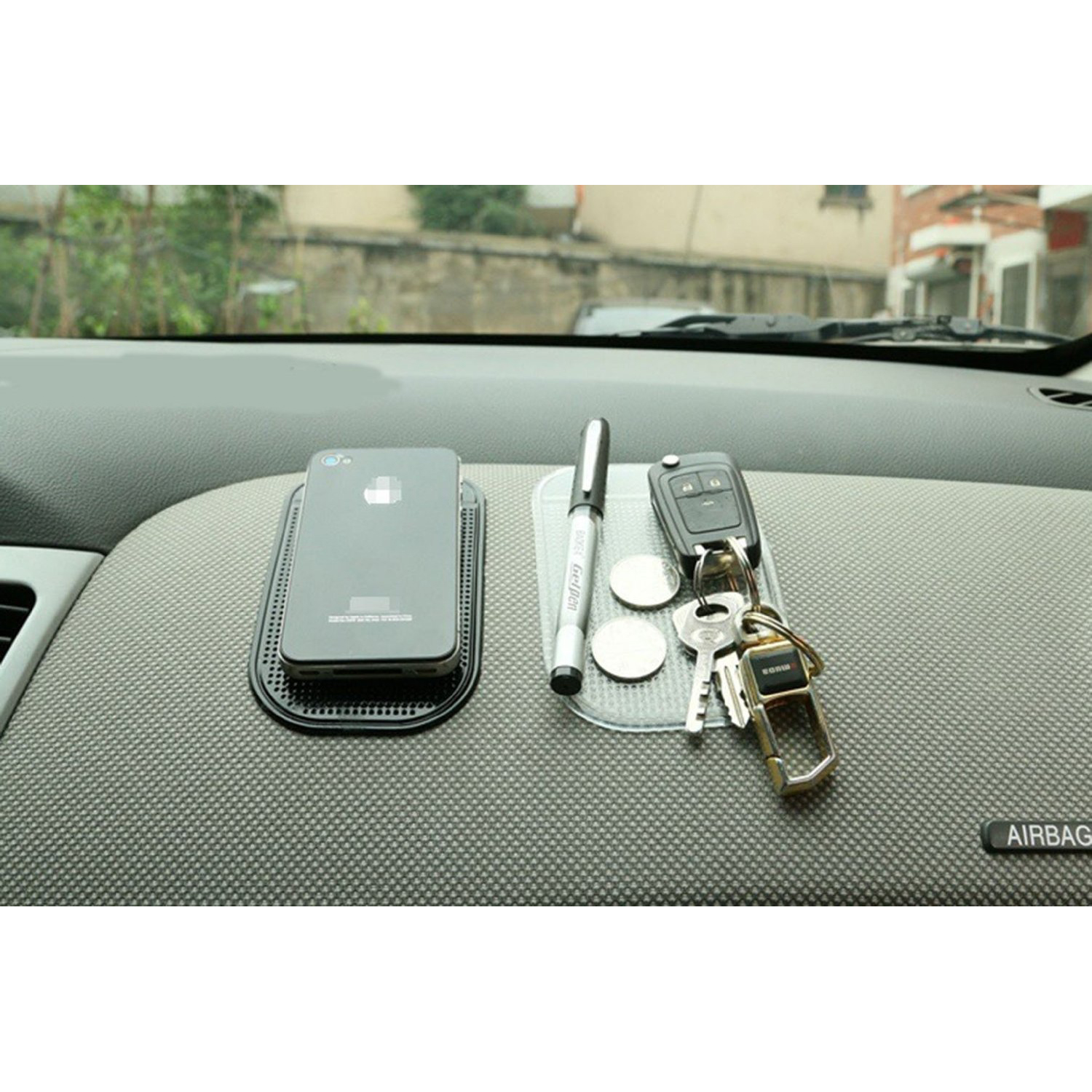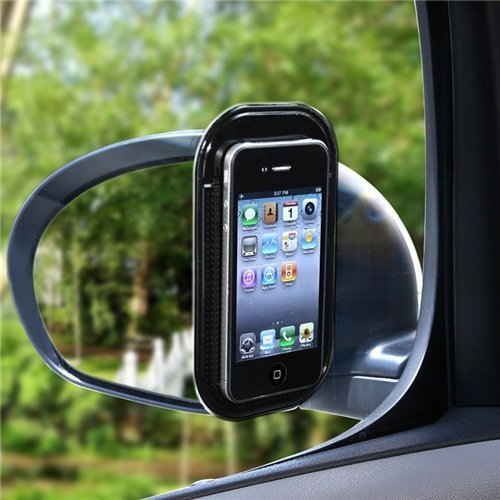 You Might Also Be Interested
Customers Who Viewed This Item Also View
Customer Reviews
Mylene Reeves
Jan 30, 2019 8:14:32 PM
its working just fine
So far this holder is working fine and my cell do not move around. Great product that is exactly as described. It allows my phone to be at different angles so you can move it to avoid glare.

Arnold Fox
Jan 10, 2019 4:11:01 PM
perfectly fit in my car
Arrived promptly and it fits perfectly in my car. I placed it on a flat surface and it stuck to it very firmly. I bought it so that I have a place to put my phone, keys, sunglasses, and some coins.

George Jackson
Dec 12, 2018 4:12:04 PM
exactly what I needed
Perfect Sticky Slip Mat! It lives on my dashboard and it holds everything firmly, no more fallen iPad or sunglasses in case of sharp maneuvers. Exactly what I needed.
Millie Baiely
Sep 19, 2018 6:10:08 PM
great job
They do a great job holding our cell phones, keys, sunglasses stay right where I put them. No more chasing them when they while driving.
Harry Wilson
Sep 18, 2018 6:23:38 PM
definitely works well
Definitely works well! It lives on my dashboard now. It holds everthing firmly and no more fallen ipad or dunglasses in case of sharp maneuvers. Great product!
Robert Forsyth
Aug 13, 2018 11:48:54 PM
perfect for my needs
Perfect for my needs. They stick on contact and it holds anything I place on top like my phone, keys and more...Easy to use, reusable and washable. It was a great buy!
Faith Miller
Jul 16, 2018 11:02:05 PM
extremely sticky
Extremely sticky. I put my phone, keys, and wallet on it, nothing falls off. My dash has a slope where I put it! It works just fine!
Sonia Black
May 7, 2018 11:48:44 PM
exactly what I was looking for
Exactly what I was looking for. My car has in-dash navigation but I prefer to use Waze and Maps for live traffic so I've learned my phone against the screen. With this pad, it doesn't move and falls.
Mhay Santos
Apr 19, 2018 6:20:04 PM
i absolutely love it
I absolutely love these! I don't have a good place to put my phone when I am in my van. It worked really well. I have one on the dash to hold my small things. Very useful!
Noah Baylon
Mar 23, 2018 12:07:04 AM
super sticky
Super sticky! These car dashboard pads are a lifesaver! We used it as a GPS and sticks to the dashboard. Also, great for anchoring my phone in place when we listen to music in the car.

Claire Penelope
Jan 14, 2018 4:22:18 PM
i like this pads
Really like this pads! It just stops my things from sliding around the dash. Holds my small GPS vertically. Easy to read and hear direction properly.

Kier Park
Jul 20, 2017 10:28:46 PM
very convenient
Keeps my shades and iPad mini in place. This is very convenient to stick to my car, holds keys in place on the surface with no problem. Highly recommended.
Joseph Wright
Jan 23, 2017 10:53:49 PM
very sticky
Holds my phone safe and securely while I'm driving. Very sticky, great product and packaged nicely. Great buy!

Rebecca Pullman
Jan 18, 2017 9:18:08 PM
beautiful little mat
Beautiful little mat. My husband loves it. He never has to worry about his phone sliding and falling on the floor when we are driving. Awesome grip! Amazing price.
Anthony Baker
Dec 20, 2016 9:09:46 PM
awesome price
Awesome price! It works well on my car. I'm glad i purchased this. It's perfect pad to put under my dashboard GPS. It came as described and is a great product for the cost. Highly recommend
Sharon C
Jul 7, 2016 6:25:31 AM
Greatest product to hold your cell phone in place!
This is the greatest for a car console. There area there is pretty tight, and this little sticky pad adheres to about any size space and your cell phone just sticks to it. It easily releases the phone and the pad will easily release when you pull on it to move it. Love, love, love this product!
Write Your Own Review