Features & Highlights
Why you should buy this product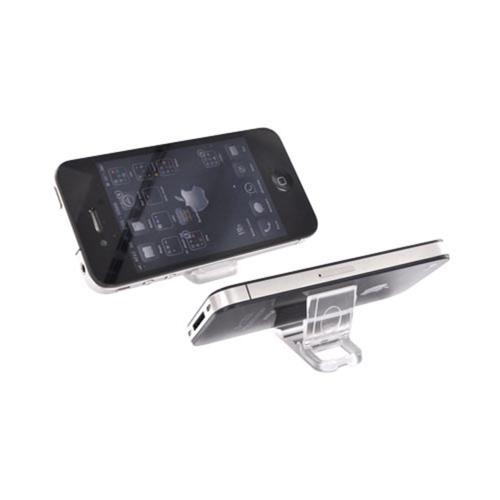 Portable Keychain Kick Stand - Clear
Universal Portable Keychain Kick Stand - Clear Simplicity is the ultimate sophistication. ~ Leonardo Da Vinci. With the Universal Portable Key Chain Kick Stand - Black you have simple sophistication right on your keychain. Bring this portable cell / smart phone holder wherever you go and prop it up for easy viewing anytime and anyplace. It's small, compact and fits right in your pocket with your keys. Universal Portable Keychain Kick Stand - Clear features Small and compact Fits on keychain/ key ring Folds open to use as stand Holds all smartphones vertically or horizontally Made from durable plastic Color: Clear **Phone or device pictured is not included Universal Portable Keychain Kick Stand - Clear
Small and compact
Fits on keychain/ key ring
Folds open to use as stand
Holds all smartphones vertically or horizontally
Made from durable plastic
Color: Clear
**Phone or device pictured is not included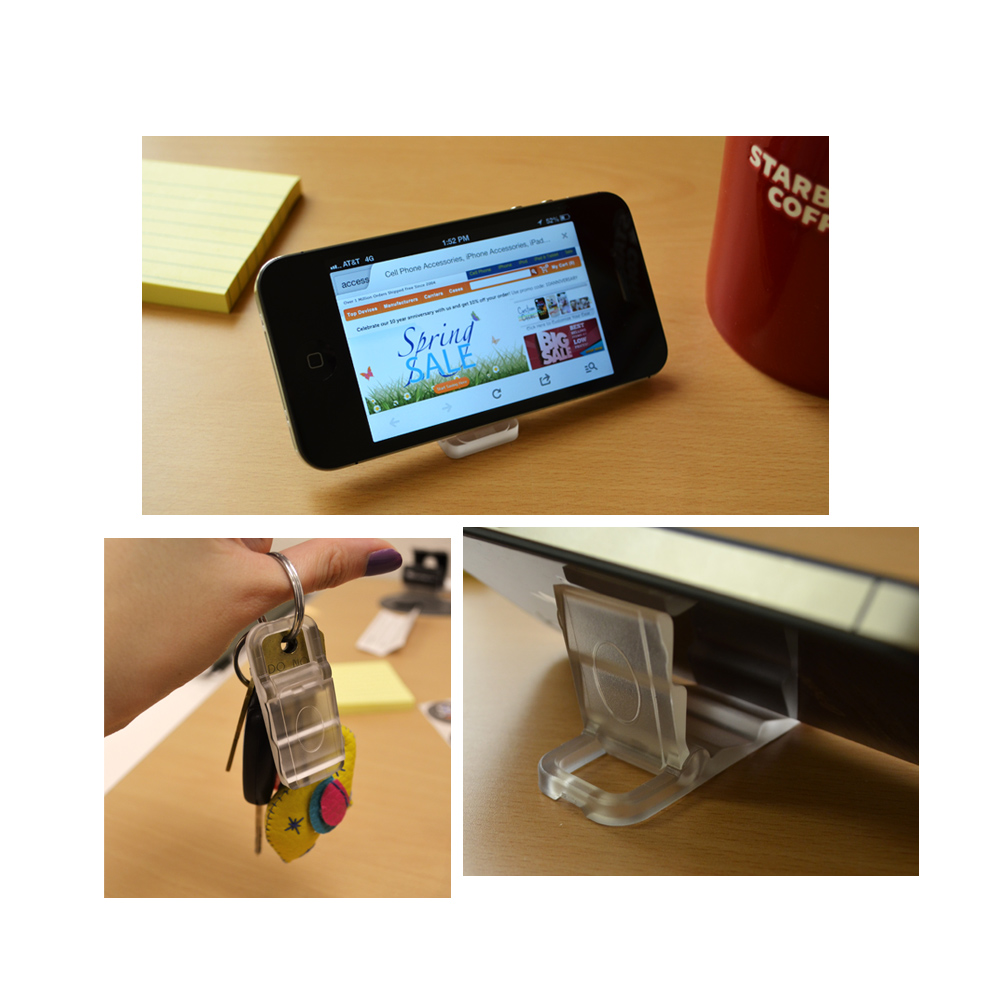 You Might Also Be Interested
Customers Who Viewed This Item Also View
Customer Reviews
Aubrey Reeves
Feb 18, 2019 9:04:02 PM
simple and easy to use
Love this clear phone stand! Super lightweight, simple and easy to use. We use it everyday while in the kitchen as it plays a recipe or while watching videos.

Suzeete Smith
Dec 25, 2018 6:34:16 PM
works great
Works great and I use it every day on my phone. Often I pack one for travel because of it small, compact and nicely clear stand! Highly recommended.
Michelle Reeves
Nov 19, 2018 10:21:54 PM
great product for the price
Pretty cool! Clear so you can see phone case and hold securely plus I can use it as a keychain. Definitely, recommend to other! Great product for the price!

Willy Wilson
Nov 6, 2018 11:53:30 PM
aimple and clear design
Simple and I like the clear design. It is versatile and even held and as I enjoy my news in the morning and Netflix cartoons with breakfast. Great for travel!

Anne Cortis
Sep 28, 2018 12:31:54 AM
such a great stand
Such a great clear stand for my phone. This is lightweight and grips my device perfectly. I can used it and hold it from behind and watch movies at a perfect angle.
Abigail Lambert
Jan 22, 2018 6:23:14 PM
little guy is cute and functional
This little guy is cute and functional. Well this props up my phone and a better viewing. Plus keep my keys well protected.
Ruth Hemmingson
Dec 13, 2017 5:29:13 PM
super easy to use
Super easy to use, handy and strong enough to hold my phone. This works great on my kindle and my iPhone. It doesn't slip at all which is what I was worried about and doesn't damage my phone either.
Jasmine Glover
May 30, 2017 9:48:57 PM
awesome!
Love this cute and very functional clear kickstand. Small, durable and the best part is I can used it as key chain. Awesome!
Sam Dickens
May 18, 2017 4:26:24 PM
very functional
Very functional! Awesome little kickstand! Just used it as kickstand and key chain in the same time:) Thanks
Chloe Smith
Apr 26, 2017 9:38:49 PM
great for my phone
It awesome! Super cute, clear stand, bring it anywhere and works great for my phone.
Frank Brown
Feb 19, 2017 3:23:47 PM
serve its purpose perfectly!
Such a versatile stand. This is small, simple and has an elegant look. Its very light weight, sturdy and serve its purpose perfectly!
Jack Mcdonald
Dec 28, 2016 8:48:22 PM
happy with my purchased
Very happy with this purchase! This is super cute, clear, handy and sturdy enough to hold my phone safe and securely. Excellent gift!

Julia King
Dec 21, 2016 7:18:25 PM
small and simple
Small and simple. Easy to adjust and travel with. Durable and can hold my phone securely. Great price.
Fiona Gibson
Dec 14, 2016 7:05:36 PM
very handy kickstand keychain
Very useful to support my smartphone at a comfortable angle on the table when I'm sitting. Just bring it anywhere for traveling, very handy keychain kickstand clear. It serve the purpose. Great price!
Mary Jackson
Nov 28, 2016 1:01:04 AM
super cute
Awesome! Super cute Clear keychain and very useful on my Android phone. As a stand it it barely holds the my phone. Worth the price. Highly recommend
Mike S
Nov 10, 2015 5:37:58 PM
Small and Convenient
This little guy works great. Perfect size to carry around.
Write Your Own Review