Features & Highlights
Why you should buy this product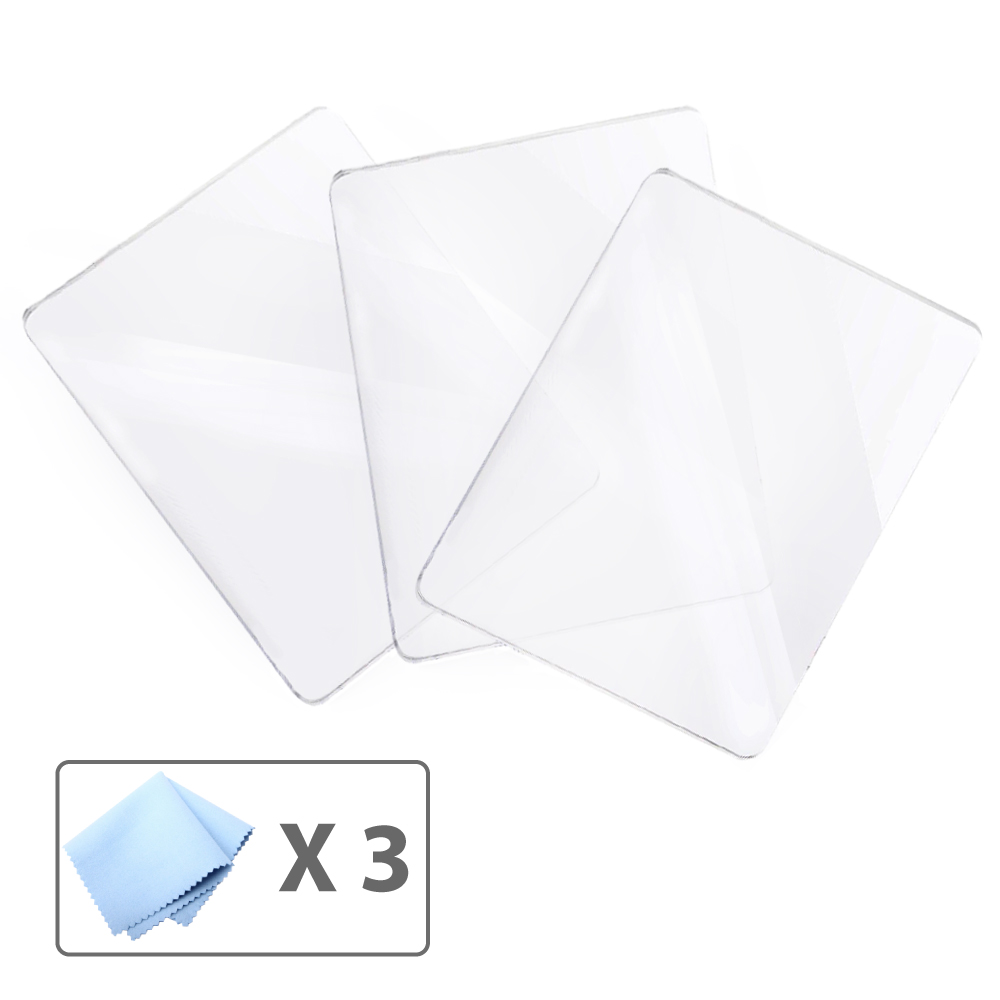 RED SHIELD Universal Screen Protector 4.87" for Smartphone, Smartwatch. High Definition Crystal Clear Anti-Scratch, Anti-Fingerprint, Anti-Shatter Film. Easy to Cut with Guidelines. [3 PK]
Protect your LCD screen with this Universal Premium Screen Protector Film - 3 Pack!Prevent scratches on your device's screen. When it comes to Mobile Phones, iPods, Palm Pilots, or any thing with a screen, the most important thing is to protect the screen. Once the screen is scratched, it looks hideous and hard to see. This large universal screen protector can be cut into custom shapes and sizes to fit virtually any hand held device with an LCD screen.
High Definition crystal clear film provides the best display resolution and pixels per inch (ppi). It does not affect the touch performance of your device at all, due to its ultra-thinness. This film features anti-scratch and anti-fingerprint feature to help you use your device at maximum performance.
Protect your high value investment! When you spend a lot of money on your device, you'll want to protect it as much as possible. This will just do that. It will help protect your screen from wear and tear, as well as scratches. As always, protection is number one in keeping your device last a long time.
Universal screen protector is compatible with most screen sizes of up to 13 inches. Try it on your smartphone, smartwatch, tablet, gaming device, GPS, or even your vehicle's touch screen radio. You can use the film anywhere as long as it fits.
Guideline grid on the peelable sticker number one makes it easy to cut to fit on your desired device. It is very easy to install, as well as remove. It does not leave any residue when you decide to remove the protector film.
The dimension of this film is 10.4 x 7.7 inches and 0.1 inch in thickness. It can support display sizes of up to 13 inches diagonally to help with maximum screen coverage. Due to the material of the HD film, it will provide the best display resolution.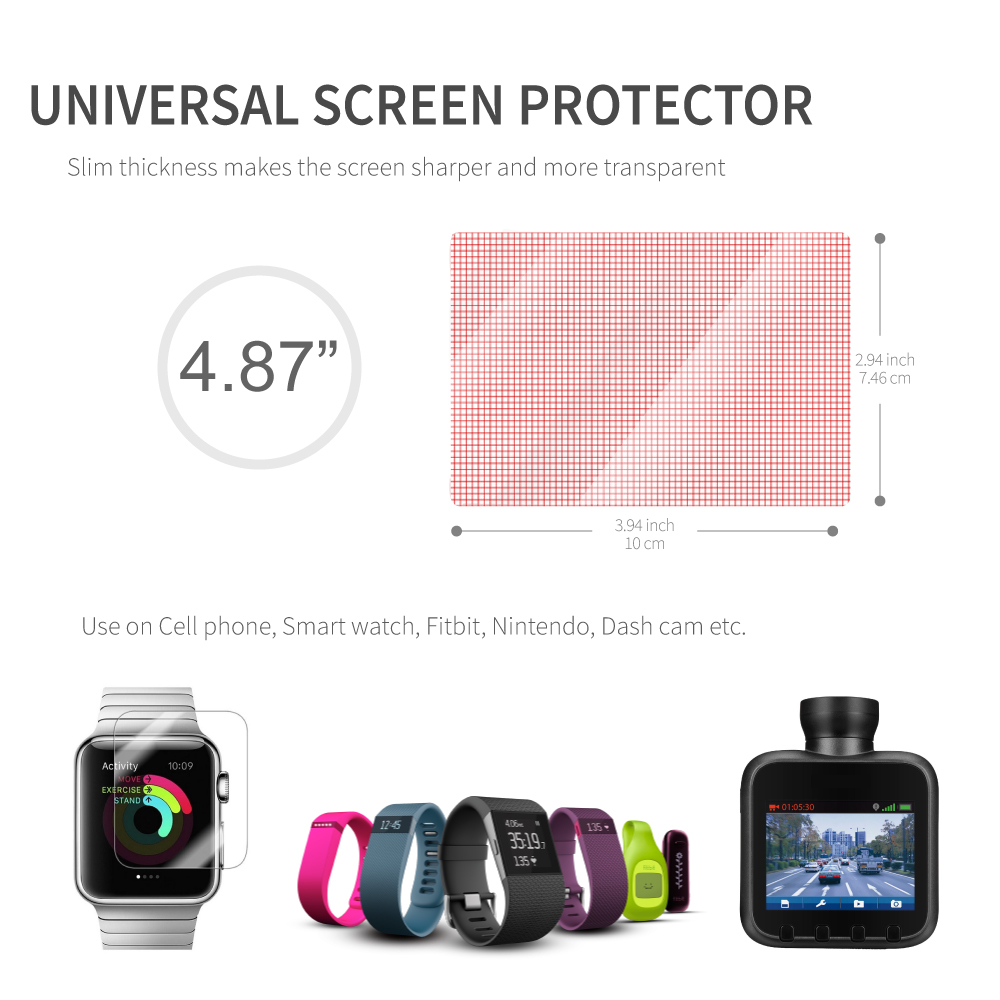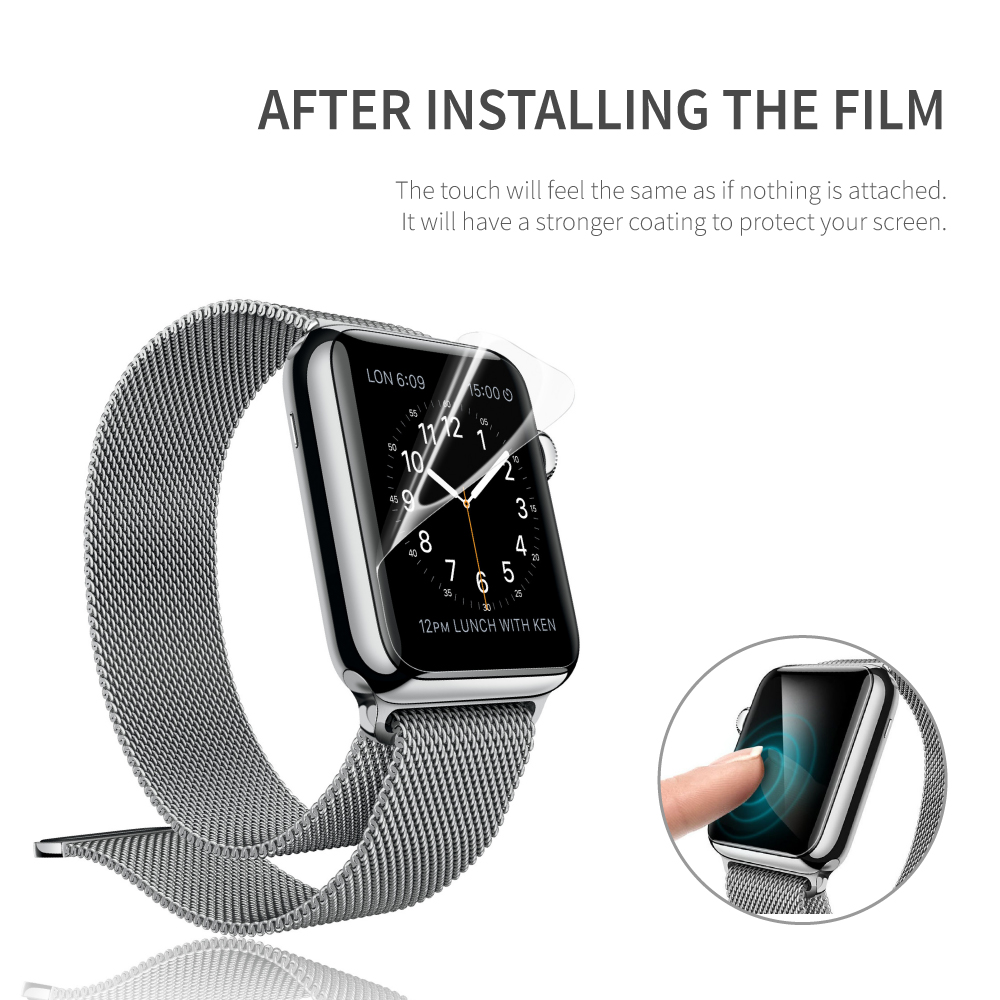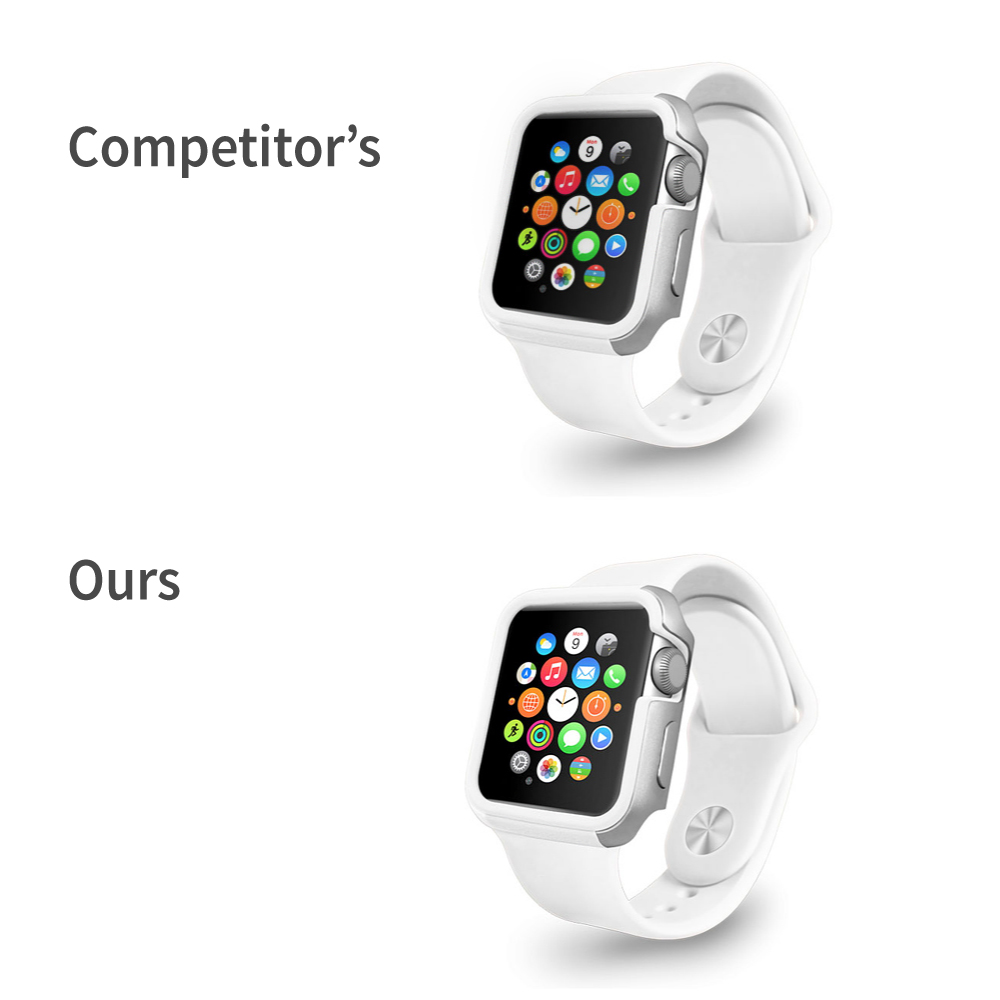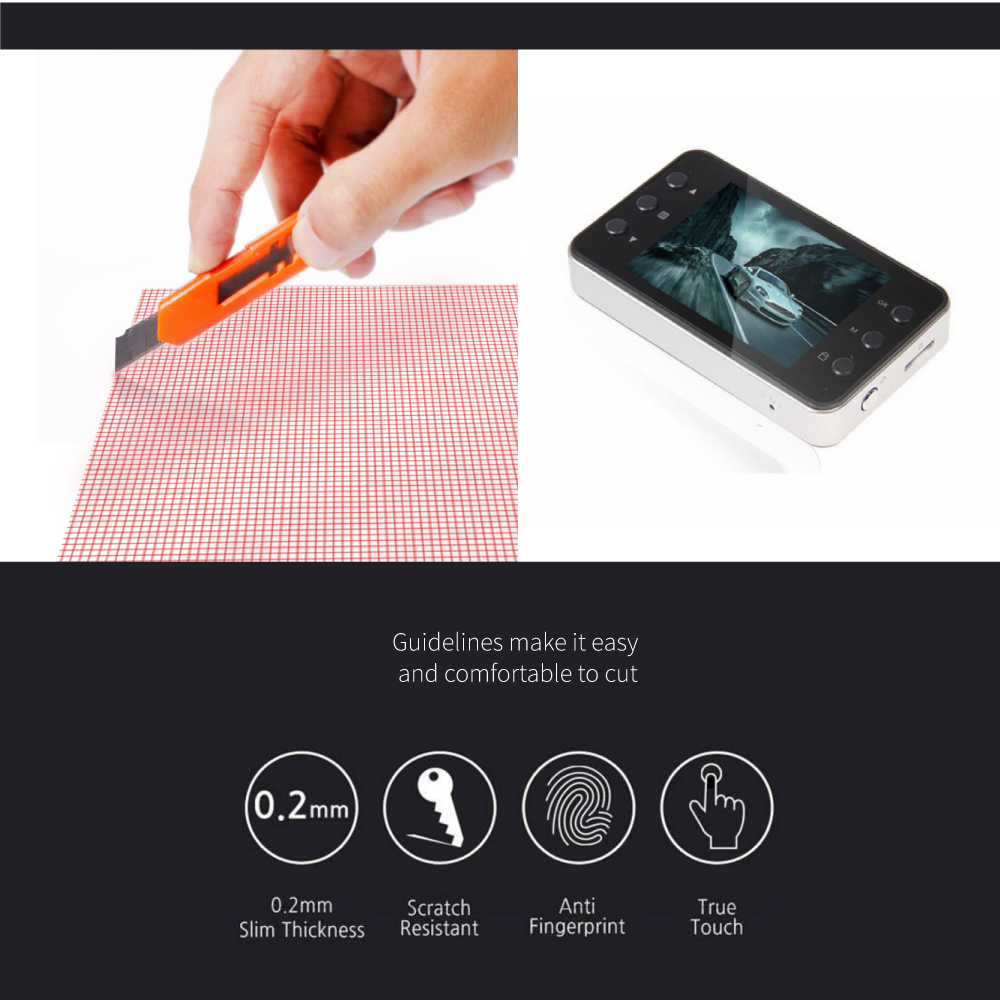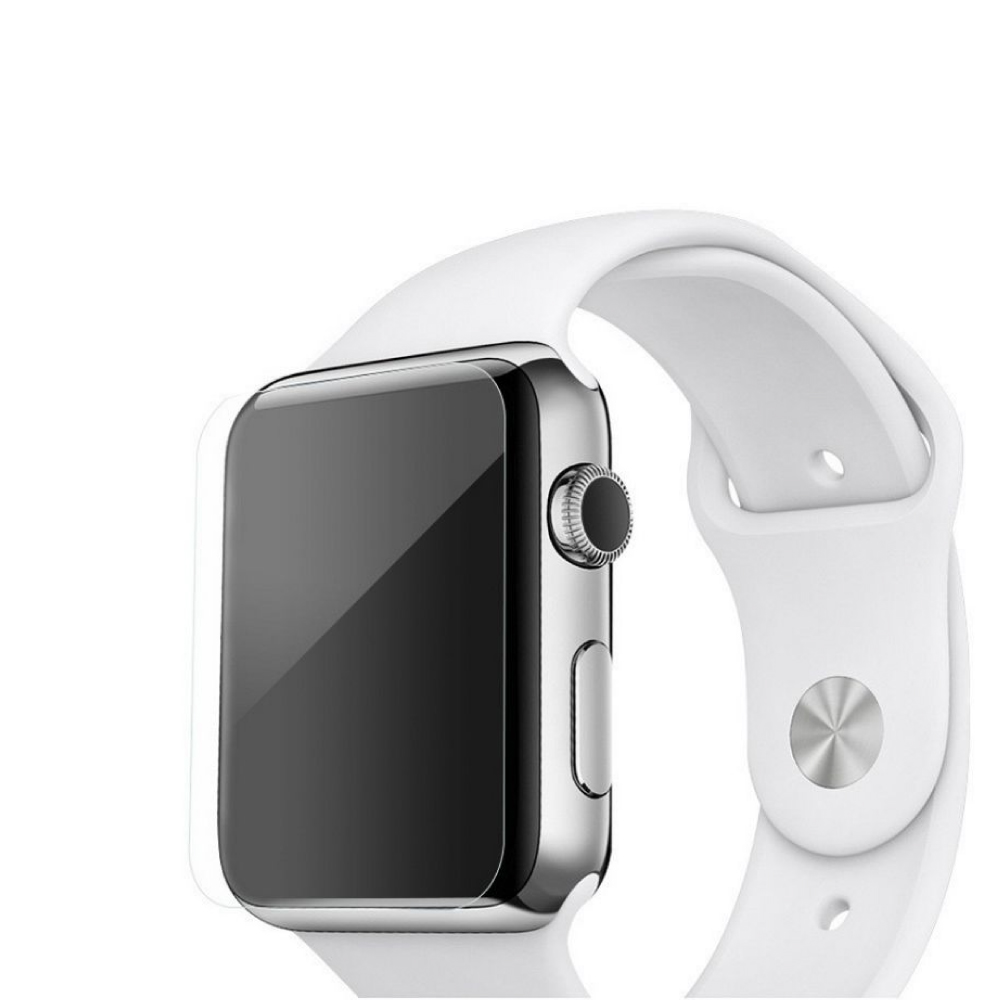 You Might Also Be Interested
Customers Who Viewed This Item Also View
Customer Reviews
Vanz Cortis
Oct 19, 2018 12:23:27 AM
pretty thin and clear
It's pretty thin and clear and it does not hinder any touch actions to the screen. Easy to put on and have no bubbles at all! I would highly recommend this item.
Lilian Brown
Aug 9, 2018 7:05:18 PM
great to feel
Easy to install and seems to protect the way it should be. Great to feel and I am very pleased with this screen protector.
Mardy Fox
Apr 23, 2018 1:08:17 AM
easy to cut
I'm so glad I bought this screen protector! Easy to cut with gridlines. Happy for 3 pack!
Jojo Hamilton
Apr 12, 2018 6:59:37 PM
excellent screen protector
Excellent screen protector. Instructions were very easy to follow and with guidelines. Offers the protection against scratches and screen breaks.
Joel Fortres
Mar 28, 2018 2:21:22 AM
easy to cut
Easy to cut for it has grid lines. It provides great protection for a high definition clear film. Best screen protector ever had!
Noel Hudson
Mar 21, 2018 1:10:15 AM
perfect for 3 pack
Cutting the film to size can be a hassle until I found a perfect one! Guideline grid makes it easy to cut on my desired size. Perfect for 3 pack!
Joanna Peters
Mar 8, 2018 12:50:57 AM
great shield
Great shield and simple to install. This is durable, easy cut for guidelines and best deal for 3 pack:)
Marlene Brown
Feb 1, 2018 3:50:43 PM
good quality
It has grids on it. They make it easier to cut down. Good quality material, smooth and not sticky or greasy. Perfect!

Tracey Peter
Jan 24, 2018 9:49:16 PM
good protection
Good protection! Easy to cut with grid lines. It looks great and feels great. I definitely recommend it.
John Clarkson
Jan 17, 2018 10:54:51 PM
super easy to put on
Super easy to put on because of the guideline grid on the peel able sticker. This is good quality and high definition crystal clear film. Great protection for my phone screen. Perfect!
Lucas Hill
May 8, 2017 10:38:16 PM
great deal for 3 packs
Best set of screen protector I have ever bought! These are a real and great deal! They are thick, easy to use and sturdy protectors and the price was amazing for the quality. I love the 3 packs. Perfect!
Kate Grey
Feb 6, 2017 7:16:46 PM
super easy to put on my phone
Super easy to put on my phone. No air bubbles and zero hassle. It's great that the screen protector comes with a grid line and 3 pack.
Megan Tucker
Jan 11, 2017 9:25:57 PM
great deal for 3 packs
Great quality screen protector. Easy to apply, crystal clear after application. Offers the protection needed, against scratches and sudden crack. I'm glad to have this 3 packs, thanks you.
Hannah Lawrence
Nov 21, 2016 8:46:19 PM
good and sturdy screens protector
Good, sturdy screens protectors. It protect my phone against scratches. Good to hear its 3 pcs. and have a grid line for easy cutting. Wonderful! highly recommend
Abigail
Oct 31, 2016 5:52:55 PM
3 packs is great value.
Easy to apply and looks great! I love it's clear enough to where it feels, and looks like the actual screen itself. 3 packs is great value. Highly recommend.
Blake Clarkson
Oct 13, 2016 7:11:57 PM
well made product
I use a few pieces of tape to clear off any dust before I place a screen protector. No bubbles or bumps. Very happy in this protector as exactly as I expected and it works great! Thank you for the measuring grid:)
Ohio
Oct 11, 2015 10:05:25 AM
Does the trick
I just wanted the wipes for the screen. Well what it suppose to do. Pretty simple!
Mikiann
Sep 15, 2014 10:48:45 PM
Great Quality! Don't miss this deal
Almost half a year when I installed one of these protectors to my phone, still intact! But super happy I have 2 replacements just in case.
Barry
Sep 22, 2012 1:31:47 AM
Certainly Worth The price
Good protection for screens on cell phones. Prevents scratching, nicks, just cut to size & put it on. Worth the money.

Pros:
Good Protection

Cons:
None
Spencer
Sep 10, 2012 6:06:49 AM
Okay screen protector, with minor complaints...
I am a big person on protecting my screens from scratches and other damage. when I got this screen protector it does do the job I must say but there are minor gripes about this case. First, when I got the screen film, you had to cut it to the size that you want to cover the face of your phone. Now I am not the best nor straightest cutter in the world and it was very difficult to cut it to the size of my phone screen. Secondly, when I applied the screen protector, there were noticeable air bubbles on my screen that i could not get out using a card or something else to smooth it out. If you have great cutting skills and have experience with putting on screen protectors, buy this product. However is you are not good with scissors like me and have limited ability to put on a screen protector, look else where.

Pros:
Cheap
Fast Shipping
Does the job

Cons:
Hard to cut out screen size
Air bubbles

Alan
Sep 5, 2012 3:01:57 PM
inexspensive and works great
the grid makes it easy to cut to fit your phone. It went only easy and has stayed on for 2 weeks without an issue. and you get 3 for $4. I would buy this again it works just as well as the $10 single packs

Pros:
Price
went on easy
Stayed on

Cons:
no cons
Kent
Aug 9, 2012 7:46:26 AM
double duty item
The grid markings help to size them just right. Bought the for my phone and the bonus was they fit my gps perfectly. Easy to peel apart also.
Patricia
Mar 29, 2012 2:36:55 AM
Good item
AG always offers top quality products. I buy these and share with friends. They say these are easy to apply and good quality. This is better than the flimsy plastic protectors that come on a new phone.
dave
Feb 8, 2012 6:21:53 PM
screen covers
not bad seem to do what it is made to do.

Pros:
price and it being a three pack.

Cons:
it would be nice to be pre-cut or some kind of templete.
Jodie
Feb 5, 2012 12:13:51 PM
Great deal, great product!
Easy to apply.
Brenda
Nov 17, 2011 7:16:56 PM
Universal Premium Screen Protecter Film-3 Pack
Can't yet review the item itself since it is a Christmas gift...can do that later. I liked the service, the feedback, and the fact that it CAME before Christmas! Will order more from this company and hope to become a regular customer.

Pros:
Don't know yet but will know after Christmas and will let you know.
Danielle
Apr 20, 2011 2:39:15 AM
Easy Install
This product is exactly as I expected and works great - measuring grid is great!
Bill
Apr 18, 2011 1:34:57 AM
Great Purchase
considering when i bought my evo phone, the best buy rep sold me what was supposed to be a life-time screen protector for $30, and it didn't last more than a week. this find was a great buy. screen protectors are universal in size and can be used on most any phone. i got 3 for about 1/4 of what i originally paid.

Pros:
universal
works great
good deal
Chuck
Apr 12, 2011 8:01:25 AM
Nice protective cover
Works well, good protection, easy to use
John
Apr 4, 2011 12:59:43 AM
Works OK, needs better instructions.
Requires a lot of clipping with sissors, then shrinks a little overnight.

Pros:
Does what it is supposed to.

Cons:
Requires a lot of clipping to get it to fit. Then shrank overnight after I got it to fit properly. Needs better instructions.
NANCE
Apr 2, 2011 11:42:32 PM
GREAT VALUE
WORKS PERFECT

Pros:
EASY TO INSTALL
Clayton
Apr 2, 2011 6:28:04 AM
Great product at a great price
Very easily cut to fit and install.

Pros:
Protects my phone display screens.

Cons:
None
Debbie Hendrick
Mar 19, 2011 1:47:48 AM
works great
This product works great but it was hard to cut it exactly right for my phone. Next time I will definitely spend the extra $ to buy the product made for my phone.

Pros:
Works great after you cut it to the right size for your phone.

Cons:
Hard to cut it just right for my phone. I wasted one of the sheets trying to fit it to my phone.
Shawna
Mar 18, 2011 12:01:10 AM
Good Price for the Product
I was leary to try this due to the price. I thought it would be cheaply made. You get a good product for as cheap as they are. Easy to apply.
Larry Scher
Mar 17, 2011 1:08:52 PM
Works Fine!
This is easy to install and is a great screen protector

Pros:
Good value for the price.
Serene
Jul 27, 2010 11:29:24 AM
Unversal Premium Screen Protector Film
It works awesome for me.
Maria Rodriguez
Jul 19, 2010 2:59:00 AM
Great product
I do like this product it was easy to apply and I like the chamois that was included for cleaning purposes.

Cons:
I wish there was more detail about sizing the film is too large for my phone and I had to cut it down to size. Should include that is is only for the large screen phones.
James
Jul 1, 2010 3:04:36 AM
The screen protectors were easy to apply and are working great. I couldn't be happier with this product
Derek
Jun 13, 2010 7:36:45 AM
good value, best buy
I've used the precut screen protectors for phones and this cheaper alternative is much better. Grid makes it easy to cut and if you plan it well, you can get a number of screens from one sheet.

Pros:
inexpensive
easy to use grid

Rachel
Jun 1, 2010 7:27:11 AM
Razzle Plastic Case & Screen Guard
I love my new case and I would suggest this website to all of my friends and family. The website was really easy to use and installing my new case was really easy. The case is helping me keep my phone longer and I can't even notice the screen guards because the look just like a normal screen would. I really like my "new" looking phone!!!
Roberta
May 31, 2010 1:17:56 PM
Neat
This product is interesting you can cut it to fit how you want! It sticks well and works! I would buy it again! it got to me within 3 days and was much cheaper than my phone company was selling it.
Carl Murray
May 9, 2010 12:02:13 PM
I bought my screen protectors for my cell phones and my DSLR. They work fine to keep scratches off the screens and they don't leave finger prints or face smudges either. I would highly recommend these to anyone.

Pros:
No scratches
No finger prints

Cons:
None
Ingrid
Feb 22, 2010 8:36:34 AM
Universal Premium Screen Protector Film-3 Pack
Great stuff will asure that my Phone Screen stays scratch free.Just cut it to size stick it 1 2 3 your done

Pros:
Easy to use,
Love Hubbard
Feb 16, 2010 10:18:23 AM
Universal Clear Covers is exactly what it states
This clear cover designed for me to cut to size is great. I even has some left over when I need it.

Pros:
Perfect!
Lauren
Feb 12, 2010 9:48:38 PM
screen protector film does the job
Low price for screen protector film. Easy to use and works fine

Pros:
inexpensive, protects your electronic screens
David
Feb 3, 2010 7:03:26 PM
Cover and Film protector
Excellent products. The cover fit perfectly, is smooth so it goes into my pocket easily, and is durable. The cutouts for accessories are spot on. The film works well, too, and was needed as I tend to let the phone fend for itself.

Cons:
A little tricky to peel back the film without getting a fingerprint on there.
gail
Jan 27, 2010 12:22:36 PM
ehh
good enough for what i needed

Pros:
-gridlines
-can cover up to 6 screens with most bb and phones

Cons:
-you have to have a good eye and great with scissors
ithink your better off using a ruler and exacto knife but im lazy
gwendolyn Montgomery
Jan 26, 2010 6:09:44 AM
Blackberry Protector
The items arrived timely and was easy to use. I found no problem with the product. Will purchase again.
Thank you
CR
Jan 20, 2010 11:10:34 AM
Can't even tell it's there!
I love the screen protector. It does a great job at protecting (not to sound redundant) and with the cover on my phone, you can't even tell it's there.
Cindy
Jan 20, 2010 1:16:26 AM
Hardy screen protector
This film was easy to apply and does a great job of protecting the phone screen. I was a bit concerned that it would be difficult to use, but was not at all.

Pros:
Easy to apply

Cons:
None
Jacqueline Adams
Dec 9, 2009 10:53:45 PM
Excellent
Good protection.
David
Oct 8, 2009 5:00:00 PM
wow, 3 in 1!
About time someone came up with multiple sheet screen protectors. I like it!

Pros:
multiple sheets
Write Your Own Review