Features & Highlights
Why you should buy this product
This Universal Tablet Screen Protector w/ Grid is a great screen film protector to have if you cannot find a perfect sized fit screen protector for your tablet. The screen film protector sheet for tablet can be cut to however you want it to be and is very easy to install. Fitting screen sizes of up to 12 inches, there shouldn't be a tablet that this cut-able screen protector cannot fit.
Universal Tablet Screen Protector w/ Grid for Screens up to 12"!
Protect your tablets' screen with this universal tablet screen protector. Tired of not being able to find one to fit YOUR tablet This screen protector has a grid to use as a guide to cut to fit your tablet perfectly.
Universal Tablet Screen Protector Just cut to fit the dimensions of your screen Fits most screens up to 12" Protects against scratches, scrapes and abrasion Removes without leaving residue Easy installation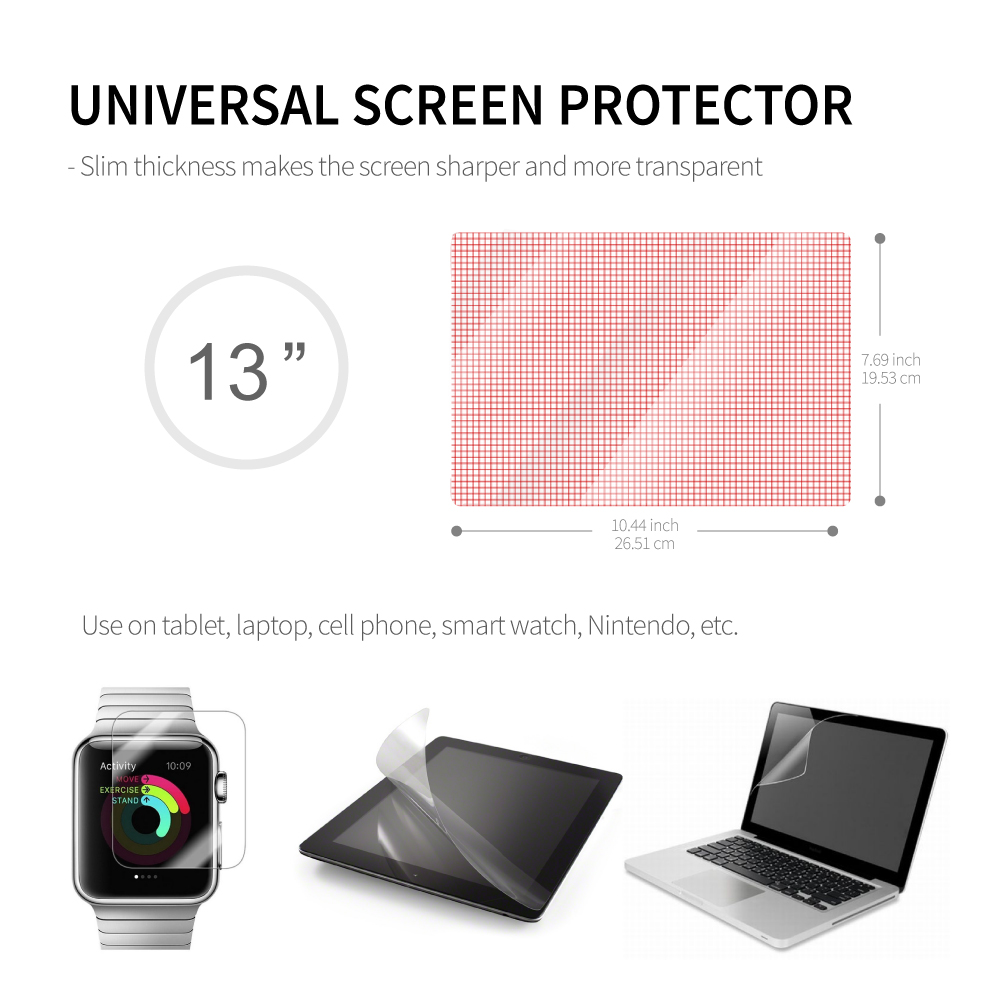 You Might Also Be Interested
Customers Who Viewed This Item Also View
Customer Reviews
Andrew Miller
Apr 8, 2019 6:53:33 PM
awesome screen protector
Great screen protector with grid lines. Easy to cut, easy to install and have no bubbles. It holds fast and can be removed without leaving residue. Awesome!

Gary Lincoln
Mar 12, 2019 6:26:29 PM
gridlines was great
I love the way it protected my phone screen. This is durable, very clear, and has a gridlines for easy cutting. Process was very easy!
Rick Clarck
Dec 20, 2018 10:58:40 PM
fit just perfect
An easy way to get your size without doing a lot measuring. Very convenient and it helps to select the size you want. Fit just perfect! Highly recommended.

Nicanor Miller
Oct 24, 2018 4:38:19 PM
just what I needed
Just what I needed. Super easy to cut and apply to the screen that needs protection. Many thanks for the guidelines! Works great for me!
Jacob hopkins
Oct 8, 2018 1:47:51 AM
easy to cut with guidelines
I used this on everything! To my smartphone, tablet, and smartwatch. An easy way to get size without doing a lot of measuring. Easy to cut with guidelines.
Jacob Brown
Aug 15, 2018 8:49:34 PM
thanks to the grid lines
Easy to cut! Thanks to the grid lines:) I really feel like it protects my phone. Super clear, no dust and no bubbles. Very satisfied!
Ella Taylor
Jul 22, 2018 9:59:53 PM
easy to install and easy to remove
It was easy to install/remove, looks like a new phone after I put the screen on. The guideline grid was easy to cut to fit on a desired size. Thanks, Geeks!
John Miller
May 21, 2018 9:36:10 PM
great value for the money
The glass is sturdy and a breeze to apply. Great value for the money and they work very well. No bubbles issues. Highly recommended.
Buckland Jorge
Jul 9, 2017 10:16:01 PM
easy to install
Easy to install and easy to cut because of grid lines. Fits great on my tablet, durable and saved my screen tablet. Great product for the price. Highly recommend.
pdnRPH
Jan 31, 2016 8:18:56 PM
Fantastic, easy to use with grid
With the grid and ease of installation, this item is perfect! Great price. Great place to shop!
Shane
May 20, 2015 8:46:39 PM
Fast shipping and good item
I got this item in a timely manner, and from the looks of it the quality is good. However I've messed up in cutting this for my tablet, my mistake but I'm still disappointed. Might buy another one.
Write Your Own Review