Features & Highlights
Why you should buy this product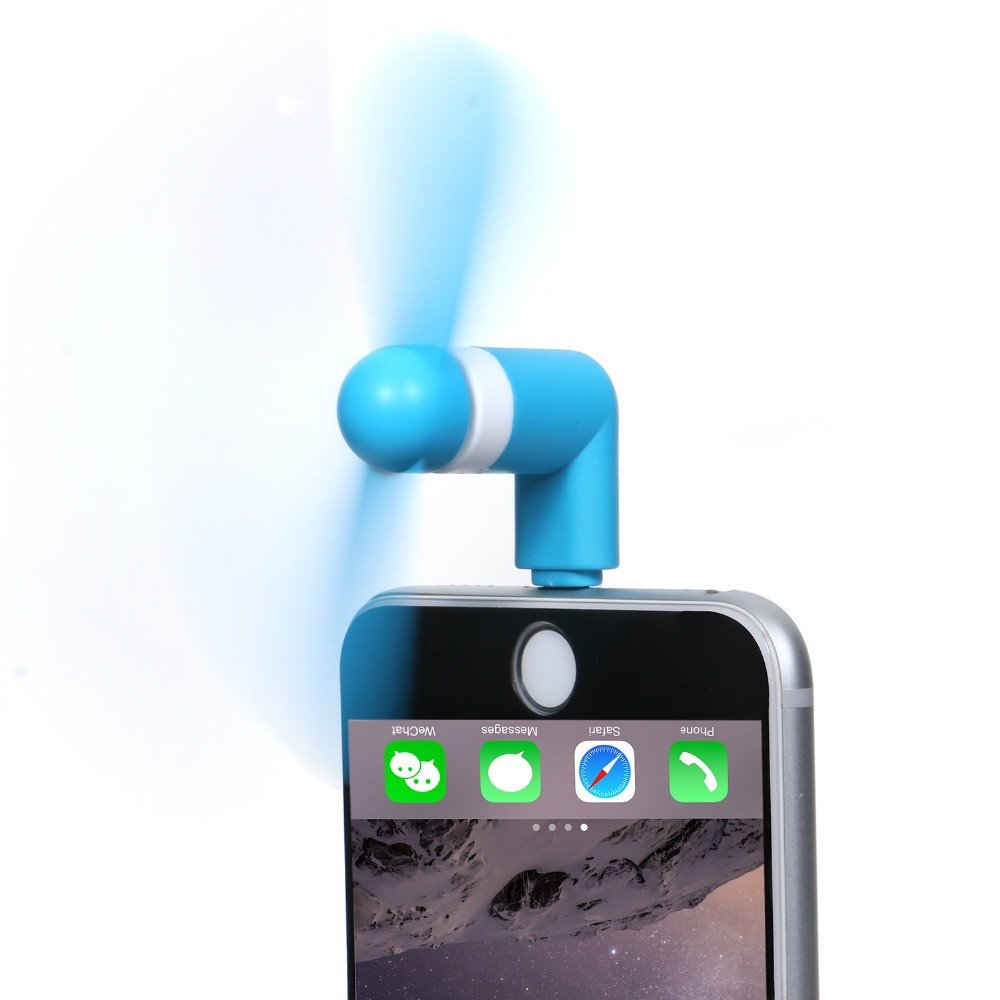 Portable Apple iPhone SE/5/5S/6S/6S Plus/7/7 Plus Cooling Fan [Blue] - Use Your Phone to Cool Off!
Cool off the easy way with this adorable mini fan for lightning compatible devices. Just assemble the blade to the fan, plug into your device, and cool off!
Cool off the easy way
100% brand new and high quality
Dock fan for your lightning compatible devices like iPhone 6/6S, iPhone 6/6S Plus, iPhone SE, iPhone 5/5S
Rotatable fan with safety soft fan blades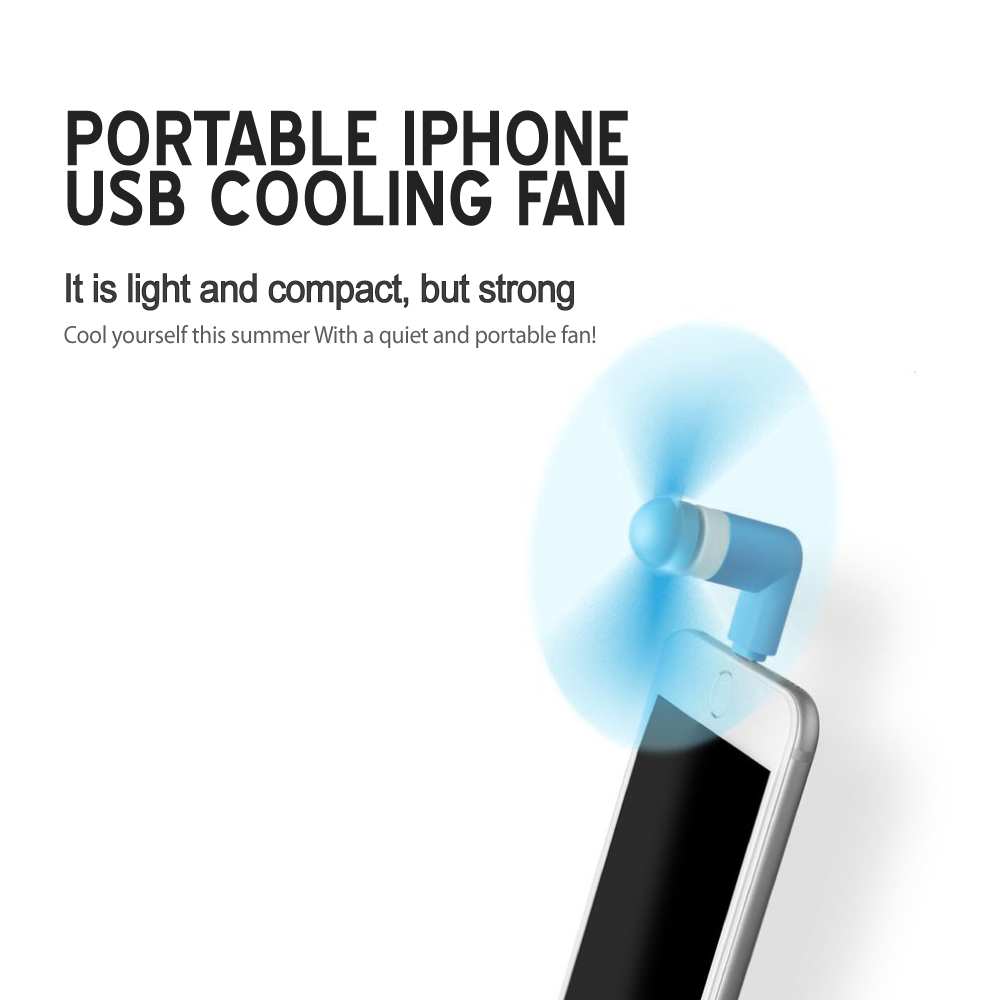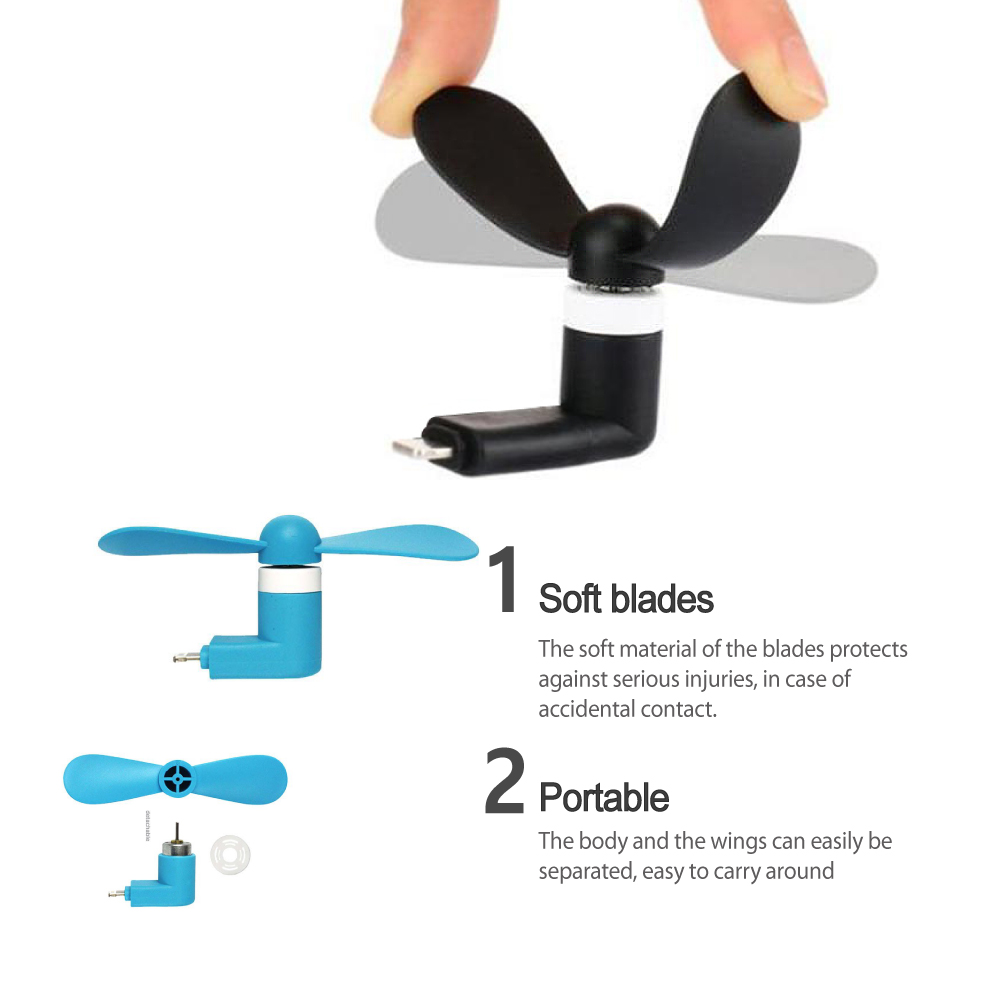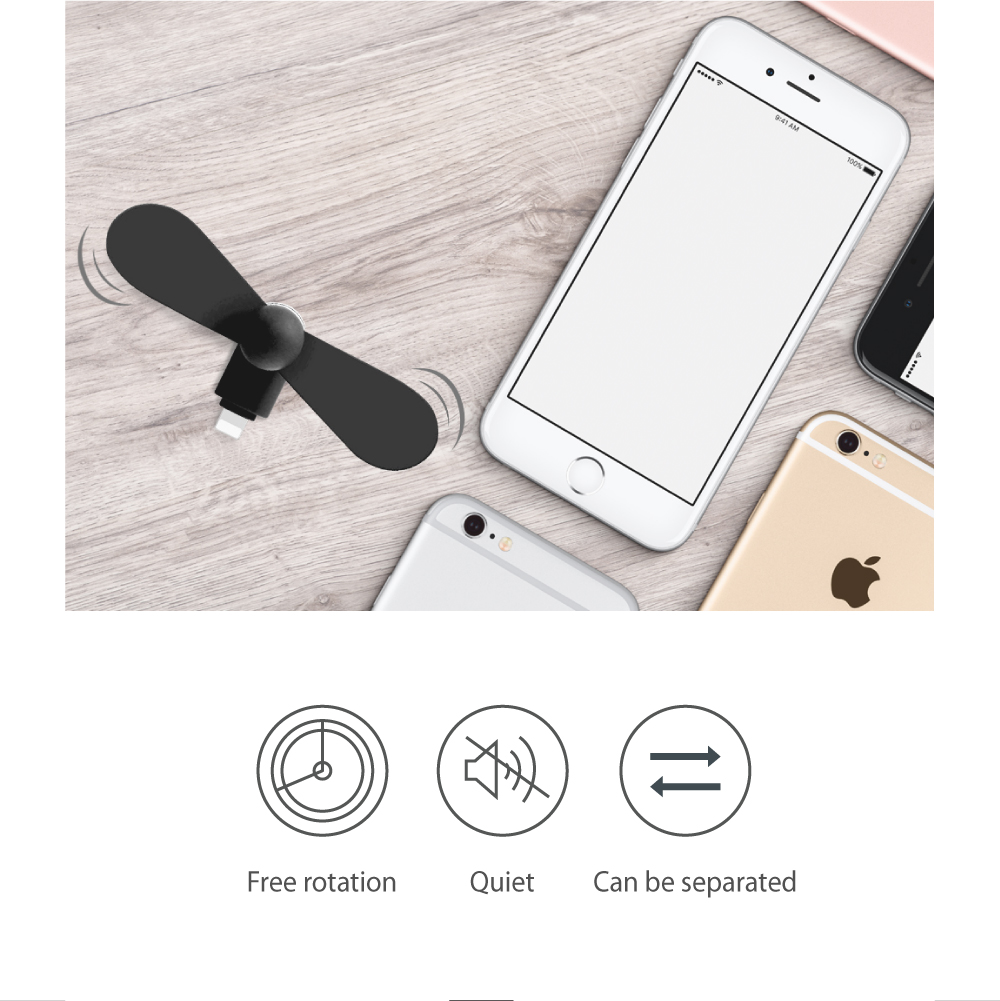 You Might Also Be Interested
Customers Who Viewed This Item Also View
Customer Reviews
Nathan Hart
Oct 16, 2017 8:03:26 PM
best inventions to keep me cool
Best inventions to keep me cool, It works very well and produce strong breeze. Easy to slide in my pocket and a fan everywhere I go! Perfect!
Thomas Clarkson
Sep 28, 2017 6:22:04 PM
such a great buy
Such a great buy! I bought one for my everyday used especially when I'm out, this is very useful and convenient to bring anywhere! Great!
John Cameron
Sep 5, 2017 3:58:07 PM
cute invention
Cute invention! This fan is very powerful and was a hit with my niece who is forever taking selfies! I gave as gifts and she loved it and started using right away.
Irene Christian
Jul 26, 2017 11:18:13 PM
pretty works
It actually works pretty well and is small so I just keep it in my purse. Works perfectly and surprisingly powerful.

Julia McBride
Jul 23, 2017 10:44:30 PM
works well
It works really well and doesn't seem to drain the battery to much. Strong, durable and pretty cool on hot summer!
Hanna Buckland
Jul 19, 2017 4:38:29 PM
very satisfied
I was surprised how much air produces, quite breezy and it quick fix on hot summer. Very satisfied for the performance of my little fan!
Kylie Brown
Jun 20, 2017 6:20:31 PM
wonderful little fan
Wonderful little fan! Works so good! I laugh out loud, so convenient to use and it actually works even with humid weather.
Joan Hudson
Jun 12, 2017 7:08:59 PM
super cooling fan!
Grateful to have this cooling fan! I am heading to the heat and humidity this summer for work. Standing outside was a miserable but might help this little fan. Thanks Geeks!

Andrea Bond
Jun 6, 2017 7:29:32 PM
awesome little fan
Awesome! Simple little fan that gives a great cooling breeze specially while travelling and don't have an air conditioning. Very helpful and it works! Thanks!
Harry Cameron
May 14, 2017 7:20:56 PM
awesome case
Awesome little fan! It was perfect walking in the park during hot summer. Best small fan I've ever purchased.
Harry Slater
Apr 30, 2017 9:42:59 PM
strong fan
Small fan and very handy. This fan is the best thing ever. Strong, durable and I am honestly impressed with its strength and quality.
Jenny Scott
Mar 28, 2017 10:41:26 PM
nice little fan
I was surprised how much air it produces, quite breezy. Quick fix for a hot moment.
Olivia Jonhston
Mar 20, 2017 8:30:06 PM
quick fix for a hot moment
I have fun to use with phone. I was surprised how much air it produces, quite breezy. Quick fix for a hot moment. Thanks Geeks.
Jessica Hill
Mar 19, 2017 9:56:20 PM
convenient to use
I love this little fan that provided much needed relief from the summer heat. It did so conveniently, quietly and very handy.
Julia Mitchell
Jan 16, 2017 9:46:02 PM
very useful and functional
Small ,simple yet pretty cool! Just loved it! Very useful especially on hot summer vacation. Great deal!
Jo James
Dec 19, 2016 10:15:58 PM
price is right to cool you down
Amazing! This cool wind from a little fan is pretty great. Simple yet very useful and it works for me! The price is right to cool you down!
Nicolai Parkson
Dec 11, 2016 7:53:02 PM
life saver and i love it!
Life saver when we went to Mexico. It is pretty simple to use. I love it and recommend it to everyone who needs to stay cool!
Karen James
Nov 29, 2016 5:49:28 PM
make us cool all the times!
I love this little cute fan! My husband and I travel a lot to very hot places. And this make us cool all the time:) Best gift idea for my love ones and highly recommend
Bernie Lackson
Nov 28, 2016 1:05:00 AM
great small fan
Great small fan. This fan meet all my expectations, plenty enough to feel the air. Very useful specially on travelling people. Highly recommend
Penelope Martin
Oct 24, 2016 8:49:47 PM
very helpful
Pretty little fan, this is amazing! Simple and gives a great cooling wind specially when I travel and don't have air conditioning or even a fan. It really works! and very helpful.
Nikita Jones
Oct 12, 2016 6:25:38 PM
it's cool
I was inspired to purchase this item when discussing about humidity/ sweat issue with a group of women. Really helps with this summer heat and hot flashes. Very satisfied customer and I will recommend this to other women out there. Super cool. thanks
Jesse Brown
Sep 8, 2016 1:23:28 PM
BLOWS YOU AWAY
This little fan is awesome but don't use it too long it makes your phone hot and causes your phone
to freeze. If you don't have a battery charger get one because this little buddy will eat your battery up
I take it every place I go very quiet and all my co-workers LOVE it spite the issues.

Ava Bell
Sep 1, 2016 12:43:40 AM
Wow
Pretty cool! I really love it!

Bernadette Mitchell
Aug 10, 2016 10:48:26 PM
nice item
I keep it in my pocket in a small pouch all the time and also it fits directly on his iPhone 6 and it's quiet. It gives a good amount of air. I love that we don't need to buy batteries for it.
Piers Hart
Aug 10, 2016 12:33:49 AM
Amazing usb cooling fan!
The benefit of is Portable Apple iPhone SE/5/5S/6S/6S Plus Cooling Fan that it can be plugged into any female micro USB or lightning port. That means it can be connected to any Android or up-to-date Apple device. The male port is predominantly a micro USB one, and it has an attachment that serves as a micro USB to lightning adapter. I recommend is cooling to my relatives.

Zoey Baker
Jul 20, 2016 10:38:07 PM
Great power for such a compact little fan!
What a great idea! This little fan packs quite a nice little breeze for such a small thing! It is so compact you can take it anywhere, and it is quiet, so you won't bother anyone around you. My children were in the band and choir in school and it gets so warm sitting in the auditoriums, if only I had had one of these then!!! This is great for any occasion and doesn't take up alot of your phones power! That is something I was concerned about, but it turned out to hardly be noticeable, and so very worth it. highly recommend and have already shared with my friends so they can get one too!
Write Your Own Review