Geeky Gifts Not From Grandma
Features & Highlights
Why you should buy this product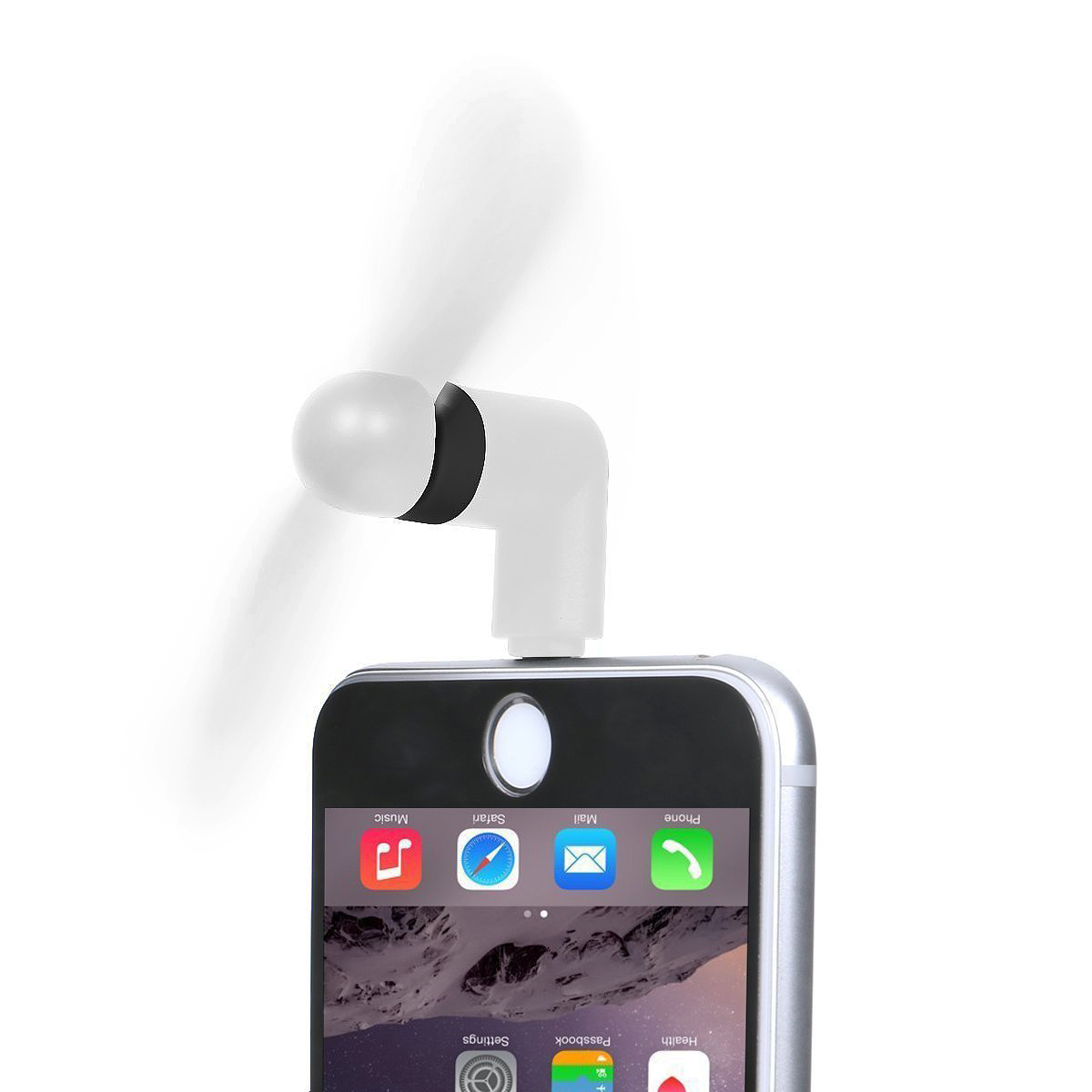 Portable Apple iPhone SE/5/5S/6S/6S Plus/7/7 Plus Cooling Fan [White] - Use Your Phone to Cool Off!
Cool off the easy way with this adorable mini fan for lightning compatible devices. Just assemble the blade to the fan, plug into your device, and cool off!
Pivoting head works in portrait or landscape mode
Connects easily via phone charging dock
Uses minimal battery life
iPhone model works with any iPhone that uses a lightning cable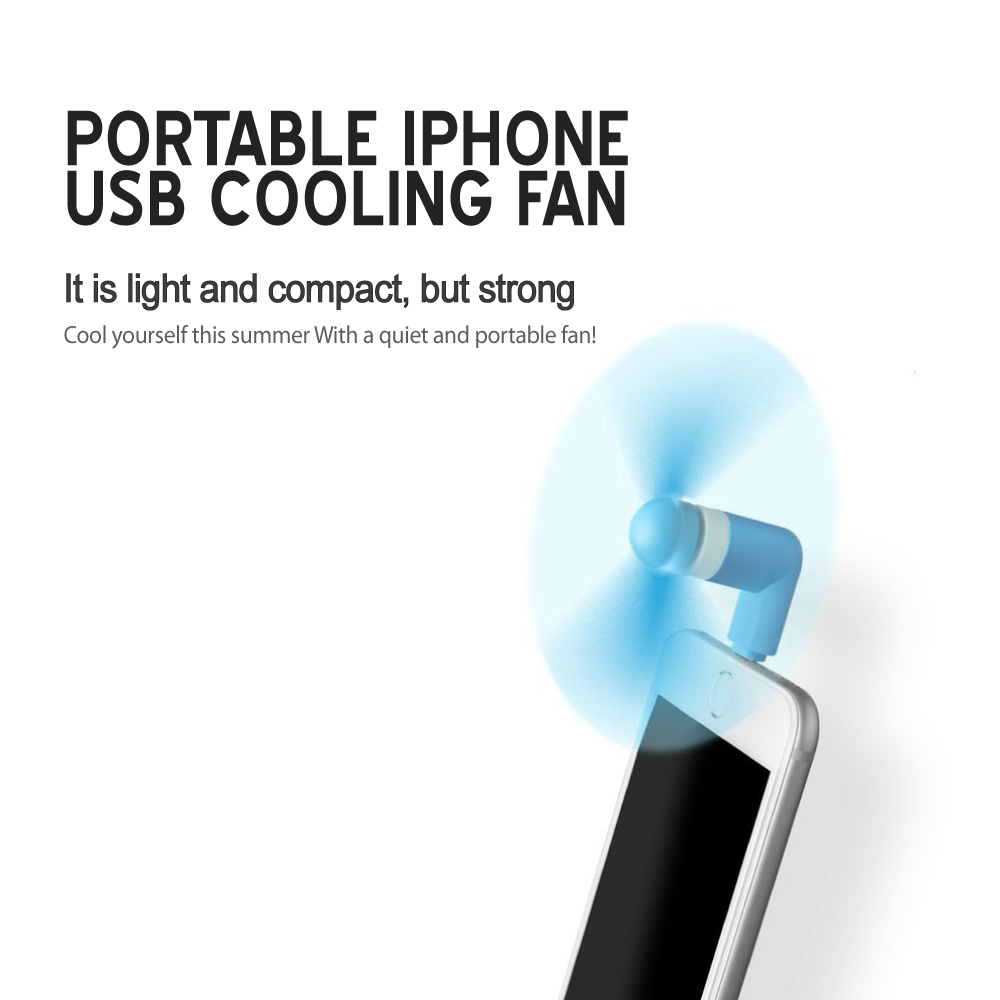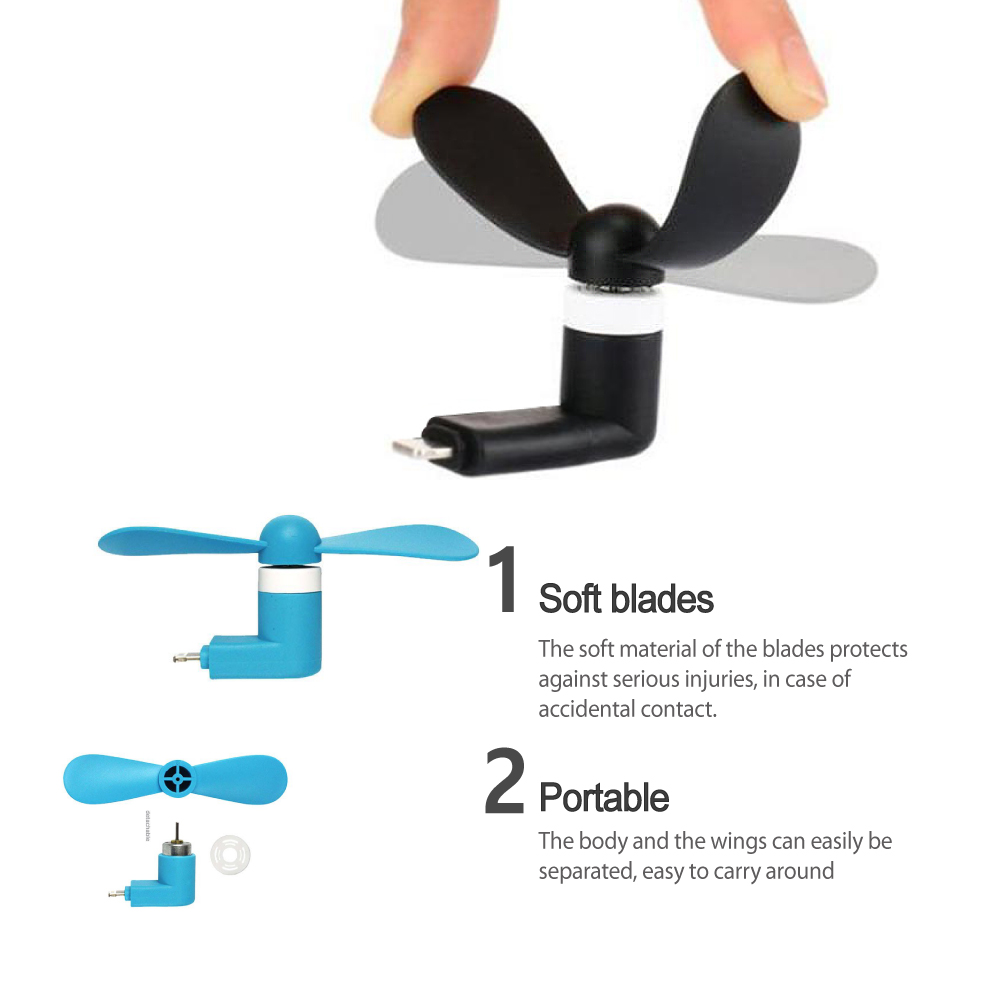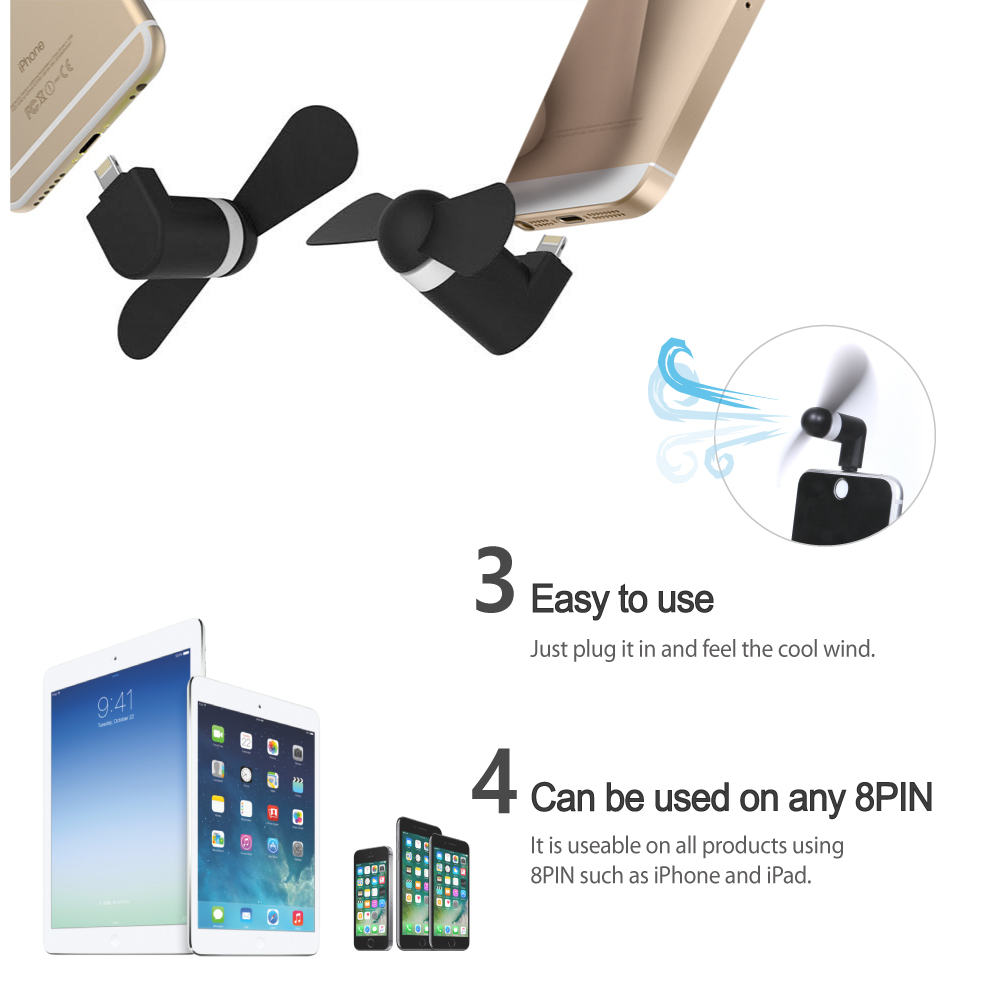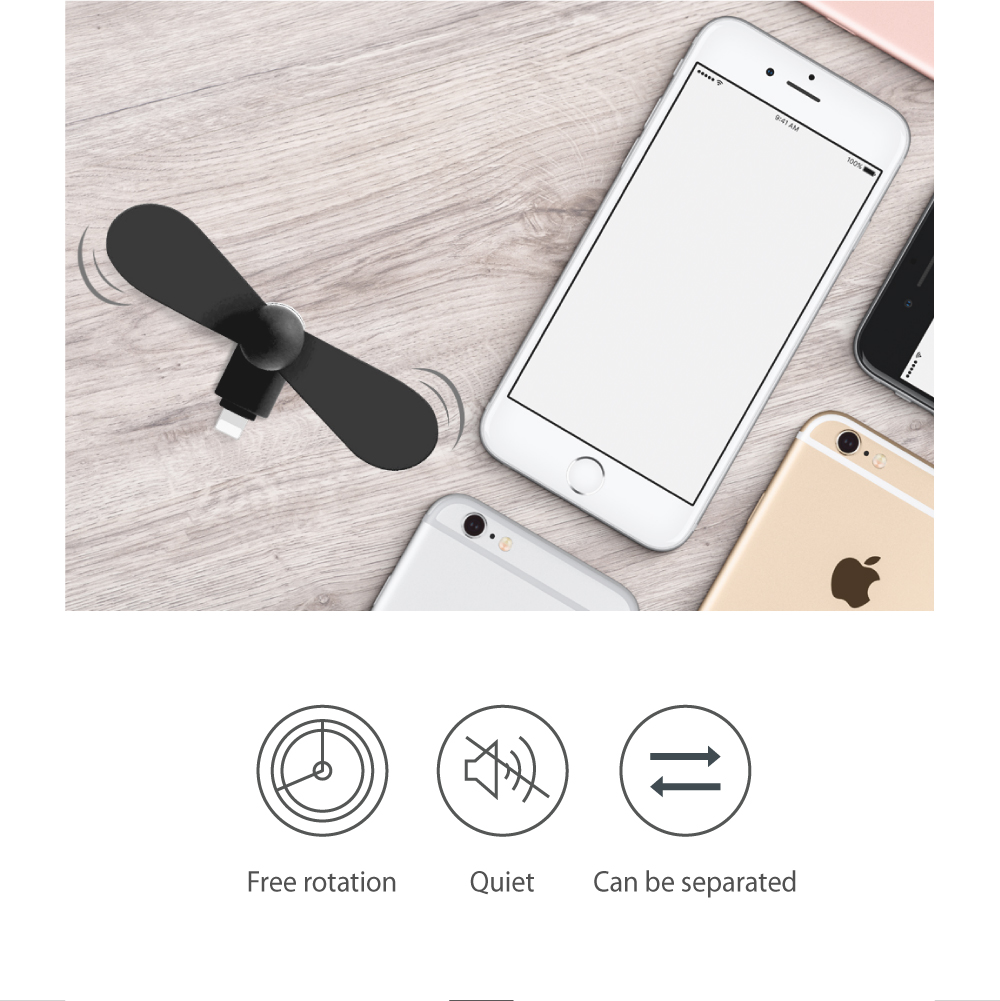 You Might Also Be Interested
Customers Who Viewed This Item Also View
Customer Reviews
Joseph Thompson
Aug 7, 2018 11:43:21 PM
such a great little fan
Such a cute little fan for purse! Great quality, easy to install on my phone, and great for summer concert, picnics and it's fun! Works great!
John Mcbride
Oct 1, 2017 11:09:51 PM
awesome little fan
Awesome little fan! Inexpensive, silent, strong construction and this powerful enough to use all day in my office, This is absolutely life saver at Disney. I will bring it to any outdoor event I go.
Thomas Gibson
Sep 24, 2017 4:45:02 PM
pretty little fan
Pretty little fan! This is very powerful and everyone should have one, in hot summer. Very convenient and the quality of this fan impressed me very much.
Janna Cornish
Sep 12, 2017 4:38:23 PM
small yet very effective
It is small enough to take everywhere, yet strong enough to effectively cool you off! It could be used outdoors, at work, in church or in class room. It is virtually silent and not distracting. Just plug in and let the cooling begin!
John Gray
Aug 28, 2017 5:06:03 PM
well creates good breeze
Excellent choice of all the fans offered. It saved my life thru summer concert when it was 90 degrees and humid! It works well and creates good breeze!
Nicolas Lee
Aug 17, 2017 9:55:11 PM
wonderful fan
Wonderful fan. This is very handy, comfortable to used and it works kept me cooled! Bring it anywhere I want! Thanks Geeks!
Molly Mcdonald
Aug 14, 2017 10:16:57 PM
fun little gadget
Fun little gadget. I gave most of these to my kids, all the fans was worked great! It was powerful for such a little fan. Great price!
Tomas Parkson
Aug 6, 2017 5:07:32 PM
amazing fan
I am so glad I found them. These mini fans are amazing! Fits great, good price and quality product. Highly recommended.
Caroline Smith
Aug 2, 2017 4:54:32 PM
perfect for my needs
I love these little fan so much, I bought two of them! One for me and one for my daughter. It really works well, it's quiet and provides a lot of air flow on hot days. Perfect!
Tim Bower
Jul 26, 2017 11:35:30 PM
fantastic
Fantastic it works pretty well! Clever intention! I was impressed at just how great this is! Stocking stuffers for all my friends who suffer from hot flashes! Works great and affordable!

Anita Miller
Jul 23, 2017 10:38:47 PM
I have fun using it!
I have fun using this little fan! Easy to use. It saved me from overheating while at a prayer service, I'm 8 months pregnant. Thank you very much Geeks!
Frank Baker
Jul 19, 2017 4:30:40 PM
happy:)
I'm glad to have this little fan! Small, easy to connect and quick to remove. It really works during hot summer. Price is good!
Carolyn Graham
Jul 18, 2017 6:26:33 PM
worth the money
Completely worth the money! It saved my life thru summer concert when it was 90 degrees and humid! Thank you very much.
Faith Eric
Jul 13, 2017 12:42:43 AM
great party gift
It has been a wonderful asset in the summer heat. It cools me down when needed. Simple and effective. Great party gift too!

Andrew Parson
Jul 13, 2017 12:12:38 AM
so convenient
I'm always hot (hot flasher) no matter what I have a bunch of fan but it's so burdensome to bring it at work. But this USB fan is so convenient and I bring it everywhere I go. Thanks Geeks!
Ana Tucker
Jul 5, 2017 9:21:05 PM
comfortable to use
Small, easy to connect, quick to remove. This is so much fun to have especially on hot summer. Very comfortable in my pocket or able to tucked away in my purse. Definitely recommended. Thanks Geeks!
Megan Thomson
Jul 2, 2017 7:42:21 PM
very cool little fan
Very cool little fan. Really cute, just plug into my charging station, travel pack and it was good to go. So versatile and functional!
Faith Clark
Jun 18, 2017 7:52:58 PM
nice and simple
It's nice and simple! Great for a hot day to cool me down! Very comfortable in my pocket or able to be tucked away in my purse.
Lily Harris
Jun 12, 2017 7:12:10 PM
I love it!
Delivers quite a good breeze! I loved it so much I had to buy another for my sister. Highly recommended.
Anne Butler
May 29, 2017 9:57:23 PM
cools me down
Provides great strength and cools me down when I'm feeling hot. Very handy and useful. Thank you.
Moly Duncan
May 18, 2017 4:21:04 PM
cute little fan
Cute little fan. Small yet durable and enough to give and keeps me cool! They are nice and quiet. Perfect!
Kimberly Greene
Mar 20, 2017 7:46:52 PM
awesome little fan
Awesome little fans that blow lots of air & fit on my iPhone. Very good and good price.
Lauren Morrison
Mar 8, 2017 4:55:38 PM
cute, useful and super cool
It's genius! The blades are soft enough that they don't cause any injury or pain even in contact with skin while on. Very cute, useful and I can take it specially while travelling. Great price for the product.
Jane Coleman
Mar 7, 2017 5:26:17 PM
lifesaver and my great companion
Super cute cooling fan! I used it every time i go travel or even in my outside door activities. This is small, convenient size and very useful. Gets the job done. It's a lifesaver! In my hot flashes period. Happy:)
Jonathan Graham
Feb 27, 2017 6:18:16 PM
very happy
It's great! Very happy. Something so simple i can bring it so much delight. Better than my expectations. Build quality and with blade being rubber not foam.
Johanne Mcleod
Feb 15, 2017 6:08:31 PM
works well for me
Works well ! This is small and nifty gadget for my iPhone. Fan blades are made up of a bendable plastic that is durable will not crack and break. It will not hurt my hand even while the fan is on. Love it!
Carol Chapman
Feb 6, 2017 7:08:50 PM
it works well for me
Small and very handy. It works well for my needs. Pretty cool fan! Reasonable price
Sonia Peterson
Jan 25, 2017 7:05:09 PM
fantastic liitle fan
Fantastic little and pretty fan. It never seems to be where I need it. Perfect for an on the go hot flash! Totally recommended.
Gabrielle Kelly
Jan 19, 2017 6:09:53 PM
cute little fan
Cute little fan. This fan is extremely powerful, small and very useful. I love the vivid color and the design. Highly recommended.
Lilian Mcdonald
Jan 18, 2017 7:49:51 PM
pretty cool little fan
Pretty cool! And it works great I used it every summer. This little fan provides great strength and cools me down when I'm feeling hot. Thank you. Totally recommended.
Manilyn Brattley
Dec 11, 2016 8:02:19 PM
well made and useful product
Worked fine for summer camp! Will be an easy way to keep cool as we travel. Thanks for a well made and useful product. Best gift idea, Highly recommend
Abigail Cameron
Sep 22, 2016 8:34:48 PM
great choice
Great choice of all the fans offered. No regret on my purchase, It's a powerful fan, it seems like a fun novelty item, love it!
Caroline Fraser
Aug 16, 2016 12:16:50 AM
cooling fan
This is a very handy and durable little device. It give a very nice breeze while you are using your phone, or even just to use as the fan you can prop the phone up and use the fan end to cool you. This is so great and easy to carry in my purse, it works much more powerful than a batter operated fan and is just so handy.
Nicholas Kerr
Aug 2, 2016 1:33:08 AM
Love it
Ok, so my daughter got one of these for her iPhone and I thought it was so unique and whimsical so I wanted one too. I love this fan and I am using it on my iPad during the evening or just when the air is "stuffy". So fun
Cooldude
Jul 11, 2016 3:19:34 AM
Nice to cool off with one of these in-doors.
Small. Easy to connect. Quick to remove. Blades do not hurt if you were to accidentally grab them. Doubles USB connection to laptop USB port or in the manner that I use it, micro USB on the end of my phone. Great fan speed for indoors. Outdoors not much of a help if the wind is already blowing. Bought Additional ones for the rest of my family. All my daughter's friends at school enjoyed the one that I got for her and they all wanted one. I recommend this to anyone that wants to cool off from coming in outside and being hot.
Write Your Own Review