Features & Highlights
Why you should buy this product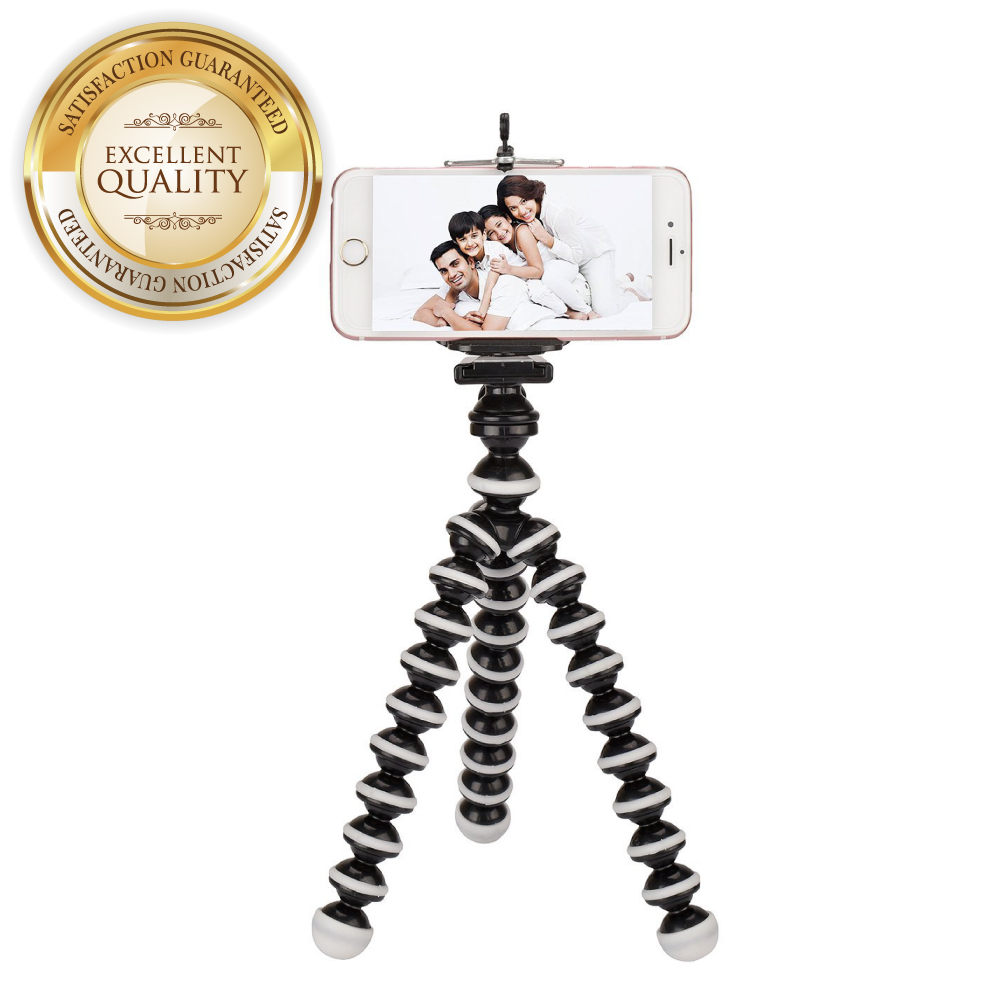 White/ Black Tripod w/ Flexible Octopus Legs & Adjustable Holder - Fits Galaxy Note Size Phones!
Hang it from the edge of your desk! Set it on your dashboard! Clamp it onto your bed post! This White/ Black Universal Tripod & Phone Holder w/ Flexible Octopus Legs is the perfect way to get and keep the perfect angle with your camera or smartphone. Whether you're on the road, at home or the office, this octopus-like holder can be sculpted to fit in almost any nook or cranny! Just slip your device into the adjustable spring loaded clip and screw it on for the perfect stand. Get yours today from AccessoryGeeks and save with our free shipping policy!
Flexible, easy to use holder for your smartphone or camera
Three bendable legs with 10 joints each to ensure you get that perfect angle
Keep your device sturdy wherever you go
Eliminate blurry pictures from unsteady hands
Keep the exact same angle for photobooth effect
Set it on your desk or hand from your bed post for the perfect viewing angle at all times
Can hold phones as large as the Samsung Galaxy Note!
Comes with a detachable mount plate that connects via 6mm screw
Color: White/ Black
Important Disclosures:
Actual camera or device, if pictured, is for demonstration purposes only and is not included with purchase.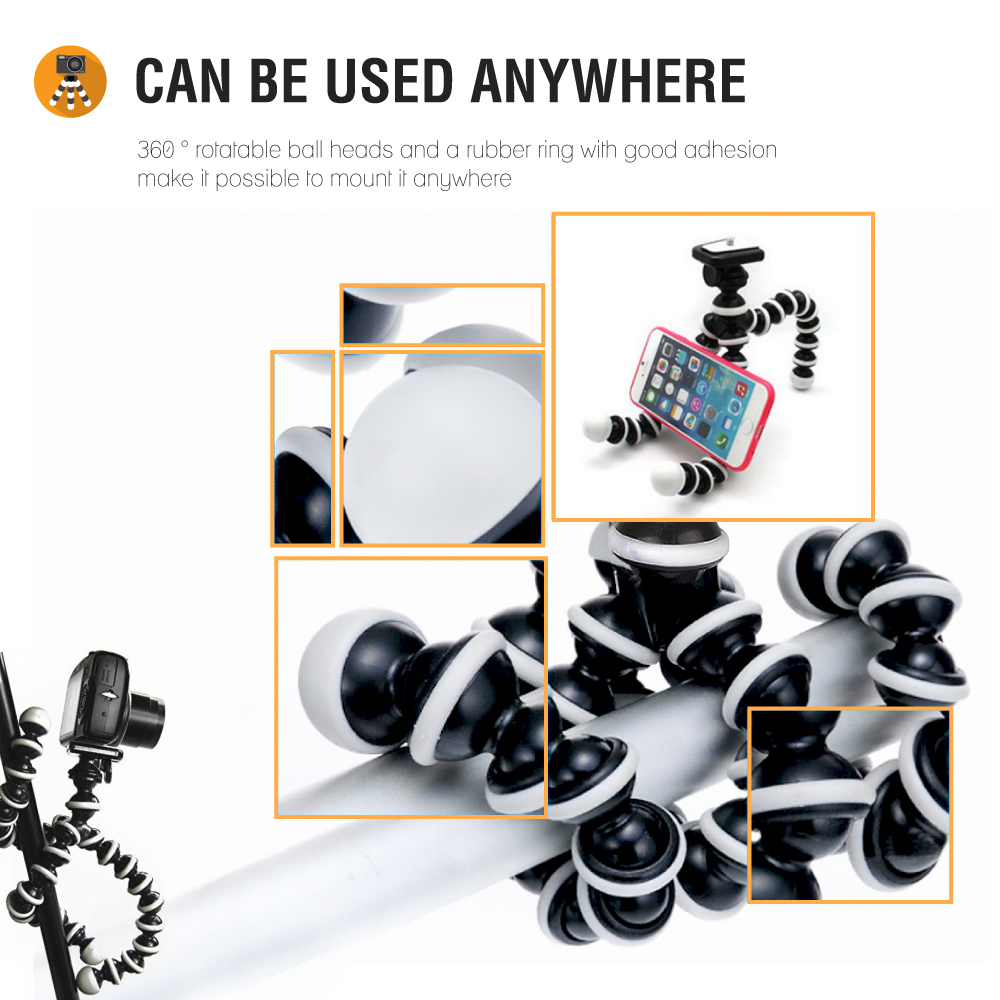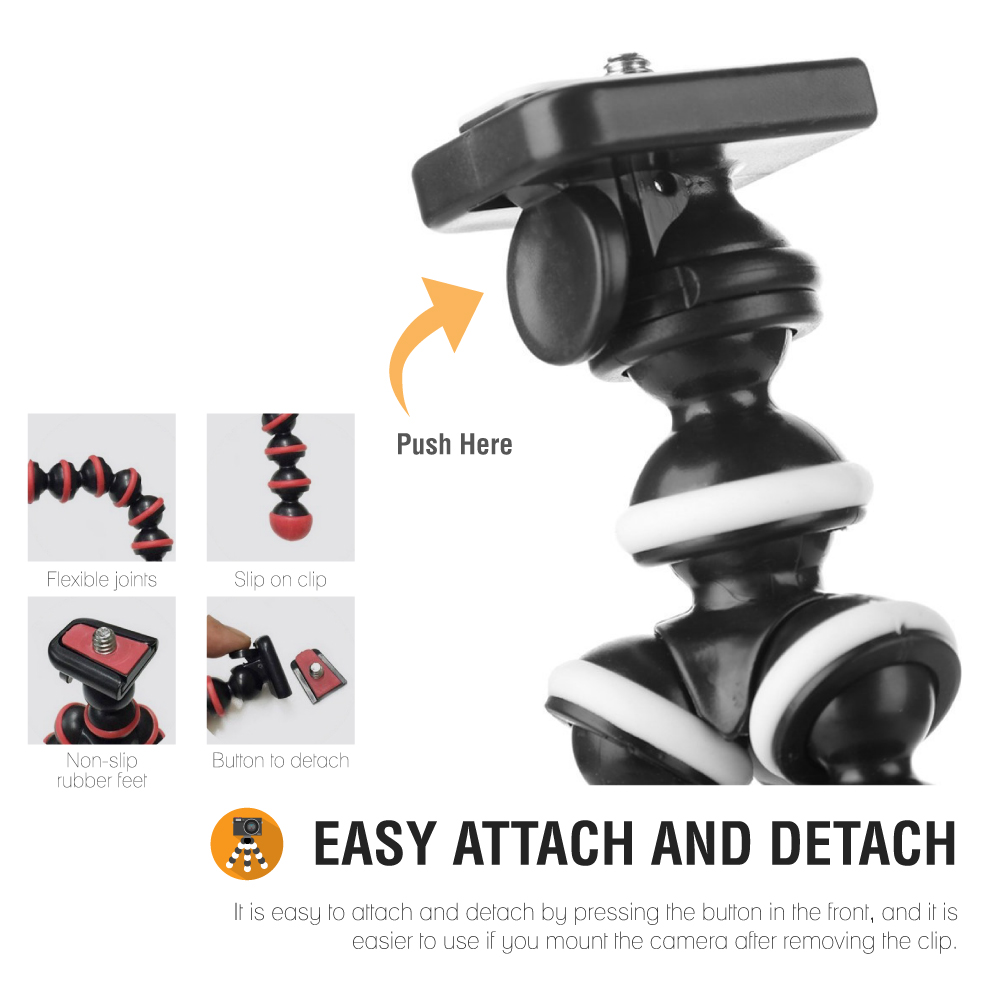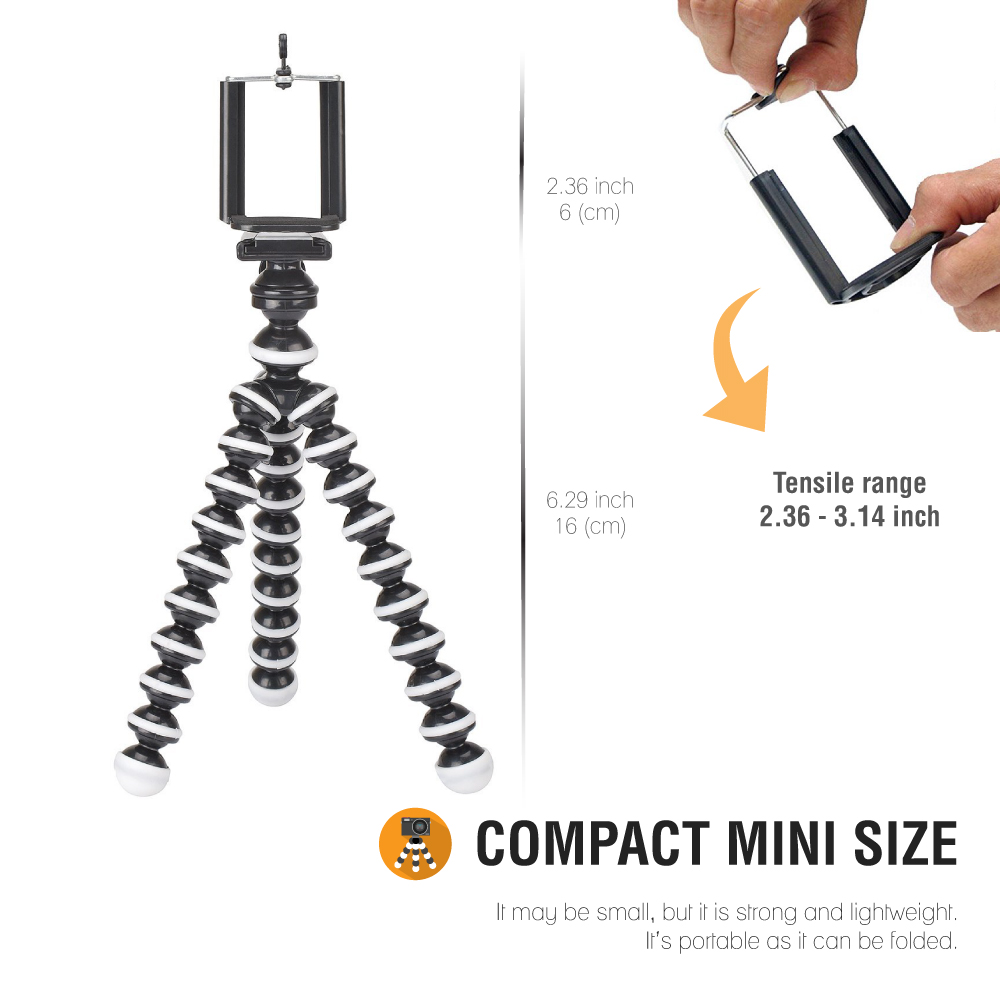 You Might Also Be Interested
Customers Who Viewed This Item Also View
Customer Reviews
John Buckland
Mar 20, 2019 12:48:30 AM
well worth the money
I have been using it to watch video tutorials and record myself while playing guitar and it works great! Works extremely well and a great design. Well worth the money!

Frank Hudson
Jan 2, 2019 5:41:49 PM
small and compact to carry
Exactly what I needed. It's rugged yet so pretty! It is made of high quality and definitely a strong enough to hold my gadgets. Small and compact to carry it anywhere!
Harry Smith
Nov 28, 2018 7:14:26 PM
worked great
I can hang it on just about anything, sturdy legs when using as a tripod, worked great for our vacation to take pictures. I even took it in the ocean and the pool with my underwater camera. Perfect!
Oliver Lambert
Jul 11, 2018 1:30:14 AM
feels and looks great
The grip and malleability of this thing's legs are awesome! I travel a lot and I've been trusting it with my camera to take video and time lapses in strange places. Feels and looks great!
Rose Queen
Jan 17, 2018 10:00:14 PM
great little tripod
Great little tripod! Works great with the Galaxy Note and just perfect for my action camera. This is handy little thing, flexible and pretty much all you need to replace all those other attachments. Great buy!
Michael Fisher
Jan 2, 2018 12:29:57 AM
flexible and useful
Finally! This tripod was so helpful when I filmed at the part the other day. I attached the tripod straight to the fence and it stayed securely. Very flexible and useful.
Oliver Park
Dec 28, 2017 10:26:07 PM
also a great gift
Such a perfect little tripod for videos and pictures. Very easy to use, adjustable and effective with handling of phone. Also a great gift.:)
Joanne Parson
Dec 17, 2017 3:59:01 PM
excellent quality
Excellent quality, flexible and it works great as described. Super lightweight, easy to pack and carry ideal for home and travel use. Worth it!
Write Your Own Review